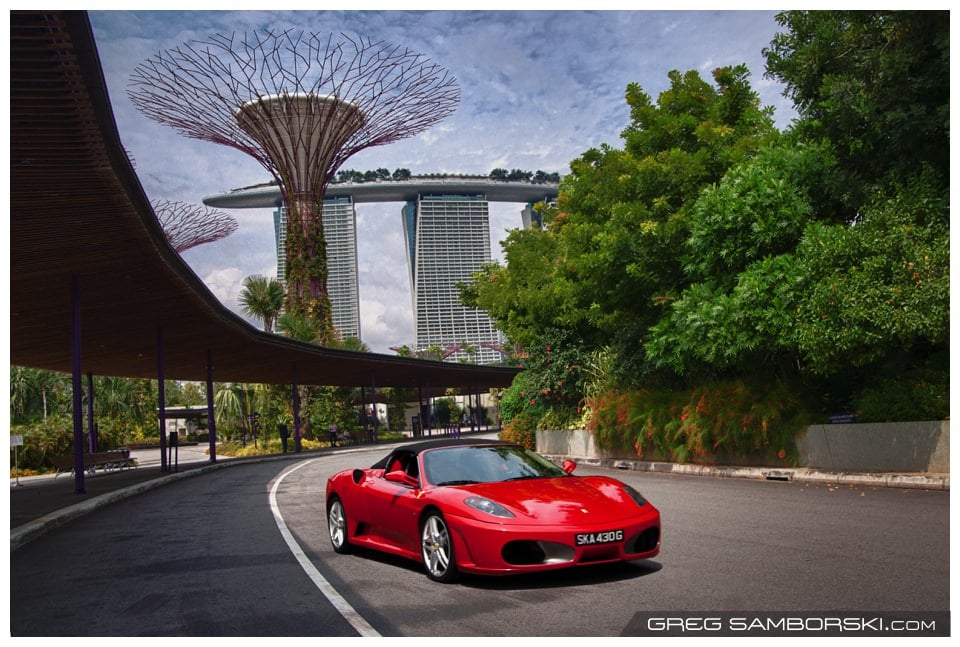 Marina Bay Sands, Singapore:  Ever had one of those moments in life where you felt like a total rock star?  Shooting commercial photography for Ultimate Drive in Singapore was my moment.  It wasn't even a moment either, it was two days of ripping through the city streets in a Lamborghini Gallardo Spyder photographing a Ferrari F430 F1 Spider that was chasing us.
My rock star moment apexes on a balmy Friday night in Marina Bay.  The streets are busy and a tricked out compact car pulls up to us at an intersection, young men and women on their way to a party spilling out of the windows.  They peer over at the super cars now parked next to them.  I'm kneeling on the passenger side seat of the Laborghini facing the Ferrari that is on our tail, 35mm ready for the next shot.  A girl in the middle seat stretches her head out the window and says is slightly stunned voice, "Is this your job?"  I pause for some time, reflecting on the awesomeness of my current work situation and reply, "Yes. Yes it is."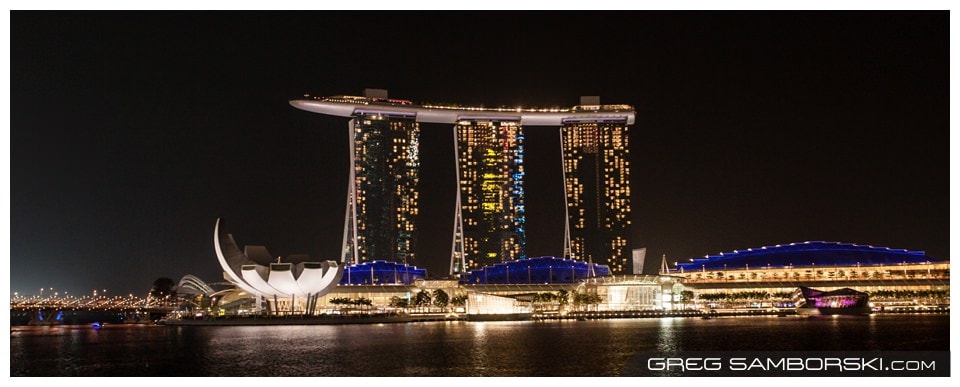 Now it's pretty clear from my portfolio to date that I have no previous experience photographing cars.  The last car I took a picture of was a 97 Daewoo Leganza I put up on Craig's List.  Switching gears between engagements, weddings and events is one thing, photographing cars is an entirely different game.  Still, I'm not one to shy away from a challenge, after all photographing a broad range of subjects is what my portfolio is built on.  So despite my obvious lack of automotive experience, Ultimate Drive was confident I could get the photos they needed.  I was humbled.
My job was to create a library of images Ultimate Drive could use for their website and promotions.  The shoot posed many challenges given our limited budget and access to the super cars.  The vehicles still needed to be available for rent so we couldn't stray too far out of the area.
The first challenge was finding a good location.  Singapore is city with notoriously strict rules.  It lived right up to its reputation denying us access to every amazing looking, uncluttered background we could find.  Without pricy shooting permits arranged months in advance we we could not gain access to Gardens by the Bay the Marina Barrage and numerous other great looking backdrops.  Gardens by the Bay wouldn't even budge on the five minute PARKING limit.  Korea functions quite differently, if employees aren't bending over backwards to assist you, then at worst a security guard will ask you to leave AFTER you've gotten your shots.
At the same time I was in Marina Bay, the Singapore F1 Grand Prix was taking over the city, converting the streets into a night race track.  There were some amazing views but again we lacked any authority to enter the racing zones or pit-stop on the side of public roads.  This made setting up the kind of epic looking magazine inspired scenes I had in my head an impossibility.  In the end we had no choice but to sneak a few shots.  For the Gardens by the Bay one I positioned myself out of sight, had both cars do a drive by and then jumped in and sped off!
The subject itself also proved difficult.  Now I understand why cars, more often than not, are shot in a studio and composted into a scene.  Cars are big reflective nuisances.  Getting those soft glowing highlights hugging each curve takes a giant warehouse, big lights and a lot of white fabric.  In an outdoor environment every tree, cloud, building, lamp post, street sign and shadow can become an unsightly reflection.  Streets are also not nearly as sexy as we have been conditioned to believe by car adverts.  I noticed most are filled with unsightly cracks, oil slicks and tar strips hence you shoot the best possible shot of a car in a studio and then go out and find a beautiful specimen of road to drop it into back in Photoshop.
Despite the above challenges and having to conceptualize, direct and shoot almost entirely on my own, I managed to put together a solid library of images.  Photos of everything from cars speeding down the highway to Ultimate Drive product and actual clients going through the super car rental experience were captured.
Upon my return to Korea I delivered the photos to Marc, Ultimate Drive's managing director.  He replied, "Your pictures are just great. I am very happy with the result. If you need a testimonial of some sort about the job you did, feel free to ask me."  Of course I'm personally not satisfied with the images I took — but photographers rarely are.  There is so much I would do differently next time and from the sounds of it there will be another chance soon!