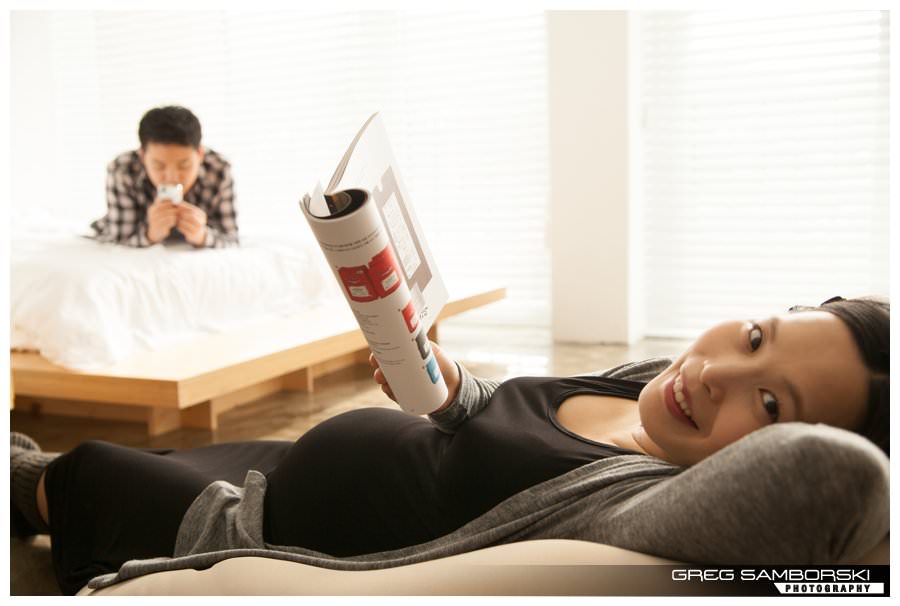 Zero Palace Pension/Bed & Breakfast, Hamei Chungnam, South Korea: Maternity photography isn't nearly as prevalent in South Korea as it is in Canada, America or many parts of Europe. Only recently have Korean moms taken to the idea of having their baby-bumps photographed. Meet Choi Soona, my sister-in-law and eight months pregnant! It wasn't hard convincing Soona + Jinwon to book a night at Zero Place for some R&R and a maternity shoot. Before I proceed, I better take a second to describe Zero Place:
Zero Place is a stunning pension/bed & breakfast an hour and a half south of Seoul, nestled in the mountains of Chungcheongnam-do next to a small lake.  Not only is the scenery beautiful, the pension is work of art.  It has a clean, minimalist style yet manages to remain cozy at the same time.  The huge south facing floor to ceiling windows and white brick interiors mean that the light is brilliant any time of day (my biggest reason for falling in-love with the place).  The owners have also taken great care in designing and decorating each room from the giant soft-shelled bathtub smack in front of the window, to the funky reconfigurable tube coat hangers.  Whether you're inside or outside of Zero Place, it always feels special.
But back to Soona + Jinwon. The fact they are family, made for a very comfortable and fun photo session. My wife Hyunmi's presence and assistance with hair and wardrobe made everything that much better. Of course I didn't charge for this shoot.  Honestly, I feel I've shot some of my best work when working for free. I suspect it's because I approach the session as personal project so I'm more willing to try new things and follow my creative inclinations.  This shoot goes down as one of my best to date.  Congratulations Soona and Jinwon, I can't wait to meet my new niece!!!