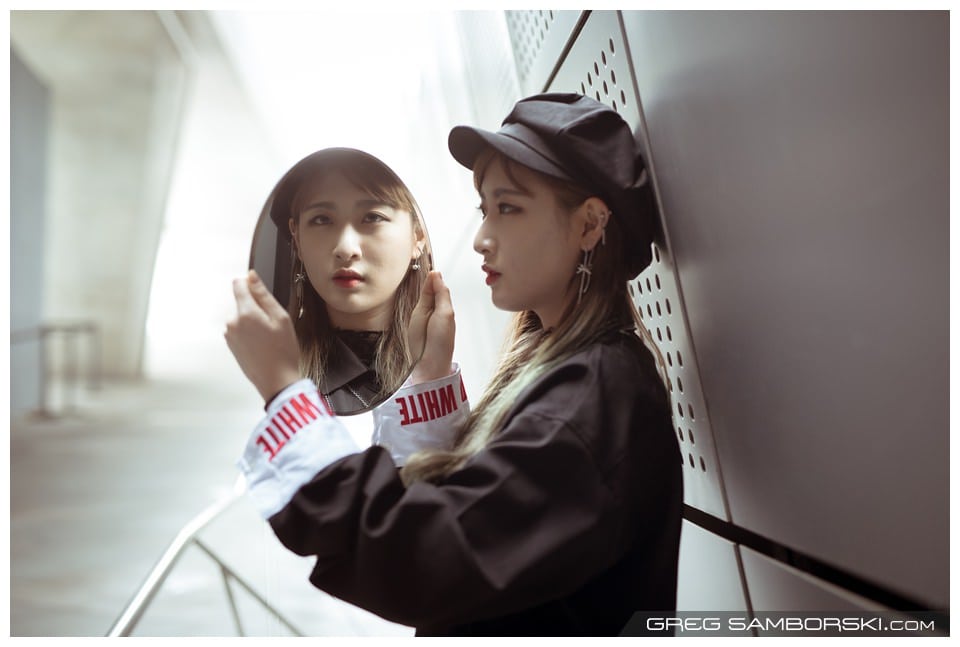 Dongdaemun Design Plaza, Seoul Korea: Seoul Fashion Week may be one of the events Korea is best known for. Twice a year, thousands of designers, models, spectators and at least one guy wearing a horse head descend on the space-ship-like Dongdaemun Design Plaza to catch the latest fashion trends, people-watch and self promote. It's always a portrait and street style photographer extravaganza as both major and yet-undiscovered models and designers line up to be photographed. The mutually beneficial madness ensures everyone gets tagged, shared and liked on the insta, twitter and Facebook. It's not just social media either, independent bloggers along with major outfits like the New York Times show up as well to document the fanfare.
After photographing backstage designer Youn Yee Park's Greedilous runway show I decided to grab some shots around the venue too. I wanted to differentiate myself from other photographers and the fairly typical street style/fashion snaps everyone was doing. To do this, I brought a small circle mirror with me. Asking a model to pose with a mirror isn't by any means a novel idea but I believe asking them to do so at Seoul Fashion Week certainly was.
I'd like to say that there was more depth to the concept – the love of self, fashion & vanity… while these themes going around in my head it was hard for me to get those I interacted with to really primp hard for the camera. Fairly quickly into it I just decided to use the mirror as a fun, visual effect in my images. In a place so dense with photographers the "IN" was important. I found most of the photographers around me were reluctant to engage and direct the models, the vast majority would swarm in on a shot that someone else was taking maybe even setting up. The mirror gave me a reason to approach, engage with and direct the talent, it set me apart immediately and those in front of my camera seemed to like the novelty of my approach. We could certainly make a more genuine connection.
For a few hours I approached interesting looking people and offered them the mirror, often directing them to new locations and suggesting poses. From time to time I'd look back and see a massive wall of photographers had congregated on the scene to snap a shot too. After the photo the model and I would always trade info so I could send them their portrait. It was a fun time and I look forward to coming up with a new approach for the next SFW.