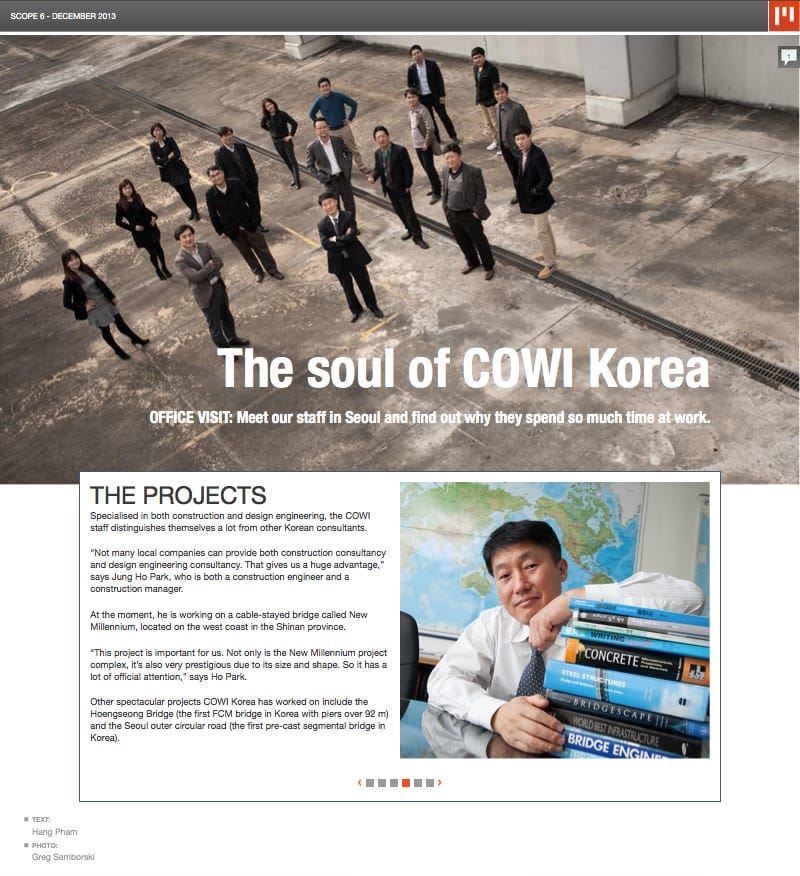 Gyeonggi-do, Seoul Korea: Scope Magazine contacted me about an article they were doing their Korean contingent in Korea.  They needed an editorial photographer to capture the vibe of their office and workers here.  Scope is a mostly internal online magazine that focuses on what COWI, a leading consulting group within the domain of engineering, economics and environmental science, is up to around the globe.  Interestingly, COWI actually purchased my picture of the then newly built Gawga Busan-Geoje fixed link bridge a couple of years ago.  They had been a major consultant on the project.
During the planning stages I had grandiose visions of staff posed up against windows of towering modern skyscrapers looking down onto the core of Seoul; sleek offices filled with engineering tables, Scandinavian furniture and brimming with natural soft light.  When I emerged from the Yatap subway station in Bundang I realized this wouldn't be the case.  I stepped into an office like most any other in Korea, or in the world for that matter.  It was small, dim, crowded and cluttered.  During my seven years in Korea I've found the majority of offices, classrooms and even living rooms are often bare bones and devoid of decoration.  There was one wall of windows and they didn't look out onto anything worth photographing.  I had many challenges ahead of me and needed to think fast.  I scouted the office, rooftop and surrounding area.  The roof's walls were too high to get any city views but at least we had good light and I was able to get some different vantage points.  I felt it best reflected the technical nature of their bridge designing work. We also shot in the board room to capture the feeling of hard work and long hours.  Finally we shot at street level for the more relaxed break time feel and restaurant shot (which was in a basement entirely lit by dim yellow lights — not quite the icy blue color tone Scope seeks out)
The Seoul COWI staff were incredibly kind.  Mr. Park and his entire team took time out of their to do anything I asked.  Mr. Park even offered me a staff member as a personal assistant for the day but I politely declined.  For the lunch shot I was expecting just the two Parks but instead the entire office came out.  They took me down to the river, an area they thought would be nice to have another group shot taken.  It was a great shoot and in the end my client ended up purchasing more images than originally planned because he liked them so much!  Thanks to everyone at Scope and the Seoul COWI office for making this shoot go so well.  To see the article in full and read the rest of the issue click here.