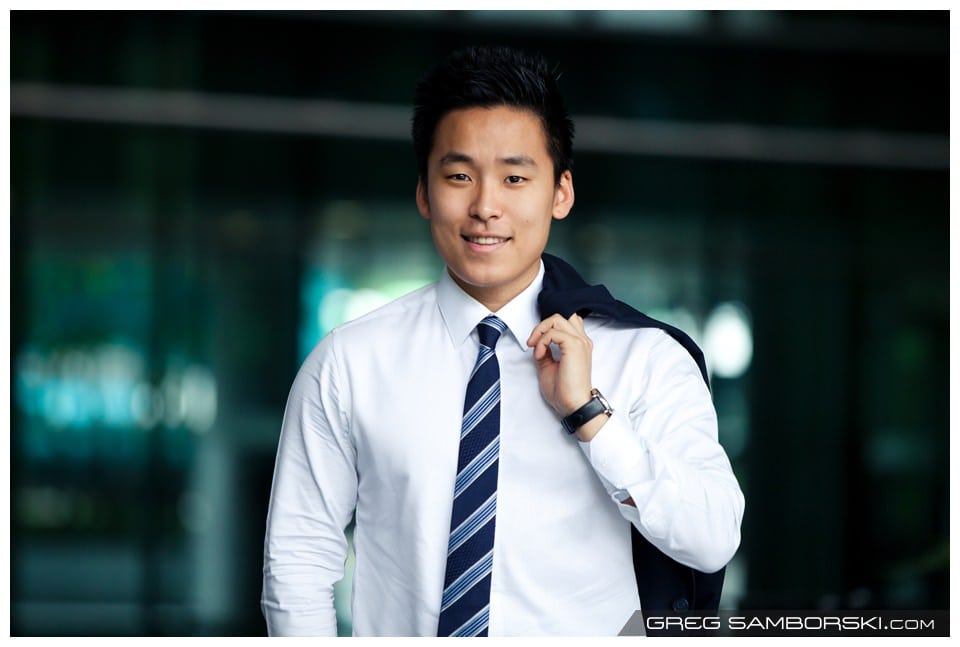 Yeouido South Korea: It's rare I return home satisfied with my photos. They say that's a good thing for artists, it's what drives us to constantly improve. Today was a slightly different story. After my 30-minute business portrait session with Kim I knew, for the most part, I NAILED it.
Kim reached out to me by email looking to update his LinkedIn profile photo ASAP. I explained my packages and pricing and less than three hours later we were booked! The plan was to travel to his office on Yeouido Island and spend 30 minutes of his lunch time making portraits.
I always ask my clients to share a current photo, explain why they aren't happy with it and what sort of emotion/story they want their new portrait to convey. In Kim's case, he wasn't at all satisfied with the bland passport style photos his company had provided free of charge. He wanted something more natural, engaging and dynamic. He wanted his business portrait to look "smart, but not too serious". Kim also shared links with me of two LinkedIn accounts with profile photos he liked.
My photo sessions typically start at two hours and I almost always end up going overtime. Kim was on a tight schedule and I needed to respect that. I spent an hour planning what poses we would try and visualized how I'd light the scene. From 12:00 to 12:30 I scouted the location for some good backdrops and had my wonderful assistant Erica VanHoosen stand in. At 12:40 we met Kim in the lobby and got cracking.
It was a good thing I scouted around his building because the meeting room Kim had reserved for our session was anything but dynamic. It featured the usual table, white walls and projector screen along with terrible florescent overhead lighting. The lounge was a little better, so we grabbed a shot there, one in the hall, and then headed out into the steam room also known as Korea in July.
I had hoped we could shoot in air-conditioned zones only but there was no choice. If we wanted the good stuff, we had to go outside. The shade offered us near perfect lighting and all the glass, reflections, and layers gave us that modern, business professional look we were after. I coached Kim into some causal poses and had Erica reflect extra light onto his face to open up the shadows and create nice bright catch lights in his eyes. Once the formal stuff was out of the way we played around for the last 10 minutes.
Kim was awesome to work with. Having just arrived in Korea three weeks ago and being the "new guy" at his firm, he was a little nervous posing while his colleges wandered about on their lunch breaks. For this reason, I tried to choose spots that were slightly out of view and always asked him if he felt comfortable in the locations and pose.