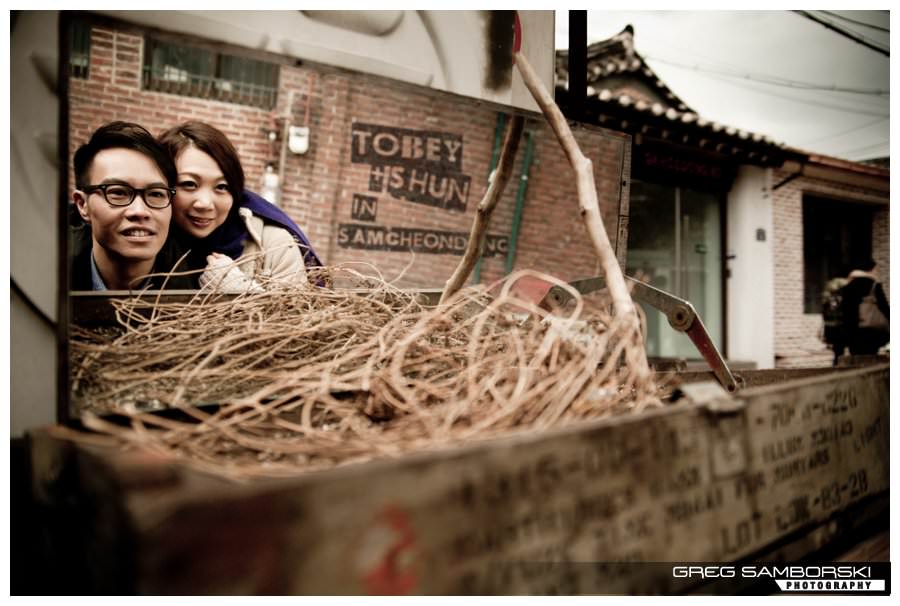 Samcheondong, Seoul South Korea: April 6th was far too cold of a day for a miniskirt in the streets of Seoul.  I don't speak from personal experience, but Tobey, a young woman from Hong Kong, was visibly shaking.  I made excuses for Korean weather like a parent does for a non-performing child.  "Really, it's never USUALLY this cold in April" I said in a somewhat perplexed tone,  "this has got to be the coldest April since I arrived here 5 years ago!"  Luckily, Tobey and here fiance, Shun, had been to Seoul many times before and actually believed me.  Together we, me in my warm winter jacket, braved the frigid northern wind for hours making beautiful engagement photos.
From the moment I  received their initial email I could  tell they were going to be a great couple to work with.  When I asked if they had any concepts in mind Tobey sent me a ton of pictures and a link to one of her favorite wedding websites, Green Wedding Shoes.  Tobey knew what she wanted, and I liked that.
I never actually laid eyes on the couple until the day of our photo session.  Sipping my americano, my eyes studied every passerby, wondering if they could be the face behind the emails.  So when this stylish couple walked in and headed in my direction, I was stoked.
Now you can have the best looking couple in the world, and still end up with hideous photos.  Once again I lucked out.  Tobey and Shun were extremely, fun, outgoing and easy to work with.  They were also well versed in posing from their previous day's studio session with a Korean photographer.  Together we wandered through the cozy, eccentric streets of Samcheondong, into cafes and eventually to the nearby temple.  I love the variety we got on this shoot.

Thanks Tobey & Shun for the great time, when I eventually get out to Hong Kong I will certainly ring you up.