Yesterday one of my favorite guys, Tim Ferriss, interviewed Tony Robbins on his podcast. I've always known the name and that its synonyms with self help but I'd never listened to anything the guy had to say; I think I may have had him confused for Richard Simmons.
Tim asked some excellent questions and Tony had some thought provoking answers. So much so I decided to watch the documentary made about one of his yearly workshops called "I AM NOT YOUR GURU" together with Hyunmi.
I couldn't help thinking I'd be the guy standing in the middle of that fanatically cheerful, dancing crowd of thousands with my arms crossed  thinking, "I spent $5,000 on this?"  Then I thought I was heartless for thinking this and wondered, as I've often wondered, if I may be slightly psychotic. I heard some really touching and tragic storyies that brought other men to tears, including Tim and Tony, and I wasn't feeling it.
I do cry, and quite easily at that. Join me at my parents house for dinner and they'll inevitably tell you about the time I cried when a logging truck chuckled full off old growth passed us in Bella Coola. Or you might hear about how emotional I got on a hike with my dad when we had no choice but to step on the wild flowers. Then there was that time I figured I would never hit the Robbin, let alone KILL IT with the makeshift  pepper corn BB I loaded into my pellet gun – I shed many tears for that robin.
It must be the my inner skeptic. It just seemed a little too evangelical for me to get into. I think Tony is a decent guy, and there's a reason why his client list includes former presidents, current celebrities and the queen of England. He has some sound advice but the road show is too much of an act for me. I get it though, you can't just show up with nothing for an audience of 2,000 paying 5k a each hoping you've got some kind of answers.
Tony has a huge team at the event, and many are assigned roles as leaders, each responsible for a small group of attendees. These leaders are constantly evaluating their members and passing on the the names and stories of those whom fit comfortably into Tony's teaching agenda. Riding in his SUV to the event Tony says he wants to find a guy who's suicidal. He also mentions how he wants to weed out the attention seekers. I was a teacher for 8 years, I can't fault him for having am agenda and wanting find examples that fit it – but somehow I feel slightly cheated.
Take for example, the first intervention where the woman basically says she isn't happy with her weight and wants to know how she can stick to her diet. Tony starts with some really great questions "who are you trying to loose weight for?", "what makes you want to do this?" but then veers off to "who's love did you crave more as a child, mom or dads?", followed by, "who did you have to be or what did you have to do to get it?"
I know this is one of his stock questions because I heard it in the interview with Tim that very morning. During the intervention we learn the girl's father has a drug dependency and that she should not only blame him for the bad in his life but also blame him for all the good things too yadda yadda yadda… In the end I feel as though this was the lesson Tonny had scheduled from 10-11 AM and he would have somehow made it whomever he had called on. It's like a horoscope, you always can find a way to make it fit your circumstances.
Let me be clear, I don't take issue with the lesson. I have trouble with the fact it was the lesson pre-chosen to be applied to her weight problem. I don't feel it was genuine.
One of my biggest pet peeves in life is hypocrisy and contradiction. I have a nose as sensitive to that shit as a sharks nose is to blood. Contradict something you've told ever so slightly, twenty years later and I'll point it out. I wish I could remember names as well as I do past statements and actions. I felt there were some contradictions in Tony's teachings.
On the one hand Tony is telling us to give up our expectations of ourselves and others as unfulfilled expectations often lead to unhappiness. (Hell I have the t-shirt: "Reality – Expectations = Happiness") On the other hand, participants are being asked to plan out there 10 and 20 year life and business goals. Are these not expectations?
Tony asserts that if we're gonna blame someone for all the shit in our lives then we gotta blame them for all the good stuff too. "Blame responsibly" he calls it. His mom beat him but he says it's also what made him the man he is today. The diet conscientious girl's druggy dad should also be blamed for being the only man in her life that has truly, unconditionally, loved her even if he didn't show it. At this point it's sounding to me like everything should be tolerated and forgiven but then Tony gets a woman in the audience to break up with her boyfriend IN FRONT OF EVERY ONE – OVER THE PHONE. There must have been some good things she could have blamed him for too no? Why didn't he push her to make amends? (Turns out they got back together after anyway. I'm sure the conversation went something like this, "I'm sorry babe but there were like 2,000 people egging me on!)
I'm not your guru was a 5 day 60 hour workshop condensed into a two hour documentary (some believe infomercial is a more fitting decription). To be fair, I'm getting nowhere near the full story. I saw a lot of happiness on those faces in the crowd and I learned some valuable things from Tony over those two hours but I can say with 100% certainly I won't be dropping 5k on his stage act anytime soon, I'll pick up the Coles notes instead.
Here's how I exercised today: Woke up at 4:30am, biked to base of Bugak Mountain and did a fairly major climb of about 400 meters. Korean hiking ain't no joke, the path was incredibly steep, rocky and not so well marked yet I met two 70+ year old gentlemen who looked about 40 and were motoring along.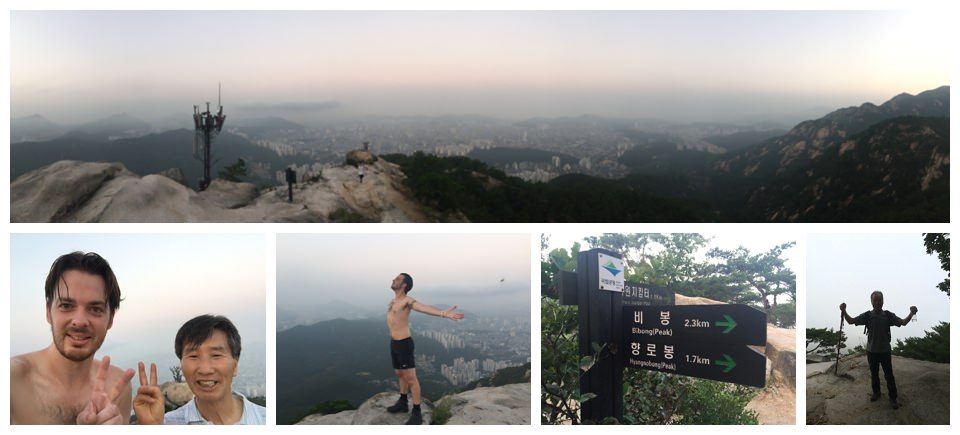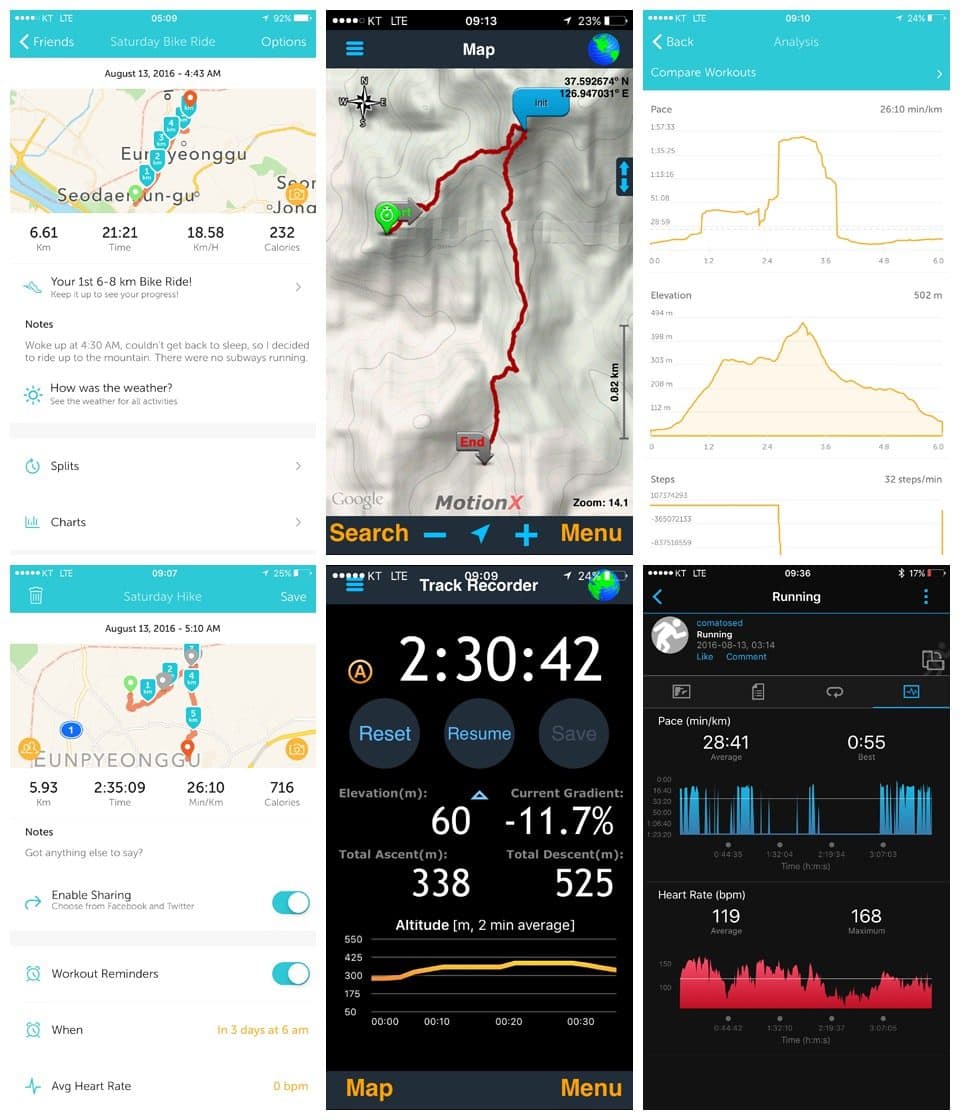 What I ate yesterday: Half a mocha bread and cheese bun, pear, pancakes with peanut butter, more cheese bun, tuna gimbap, coffee, cookie, 1/3 of a gin and tonic and vodka cranberry bucket.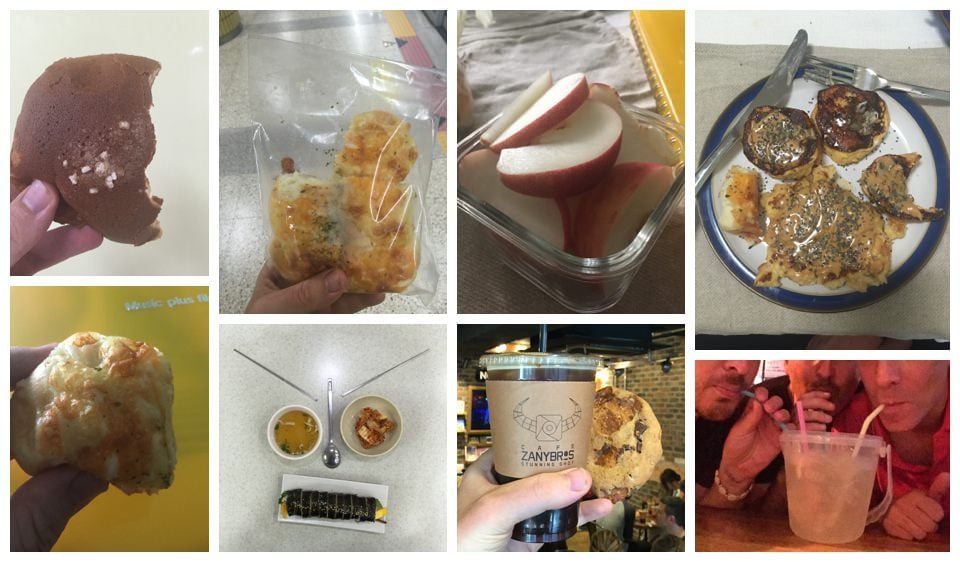 Random act of kindness: Wasn't be today, instead an incredibly fit elderly hiker gave me the last of his water on top of the mountain
Cool thing of the day: Chaka took us to the Korean Bank Money Museum. Love the look of the Venezuelan currency.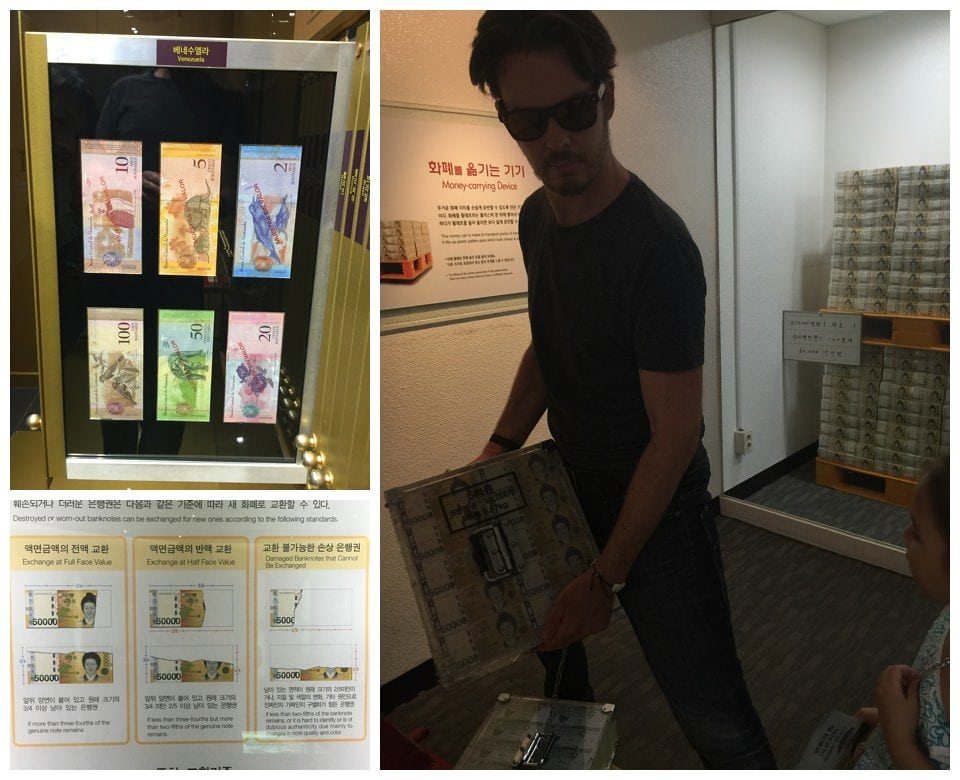 Blogging time: 60 Min