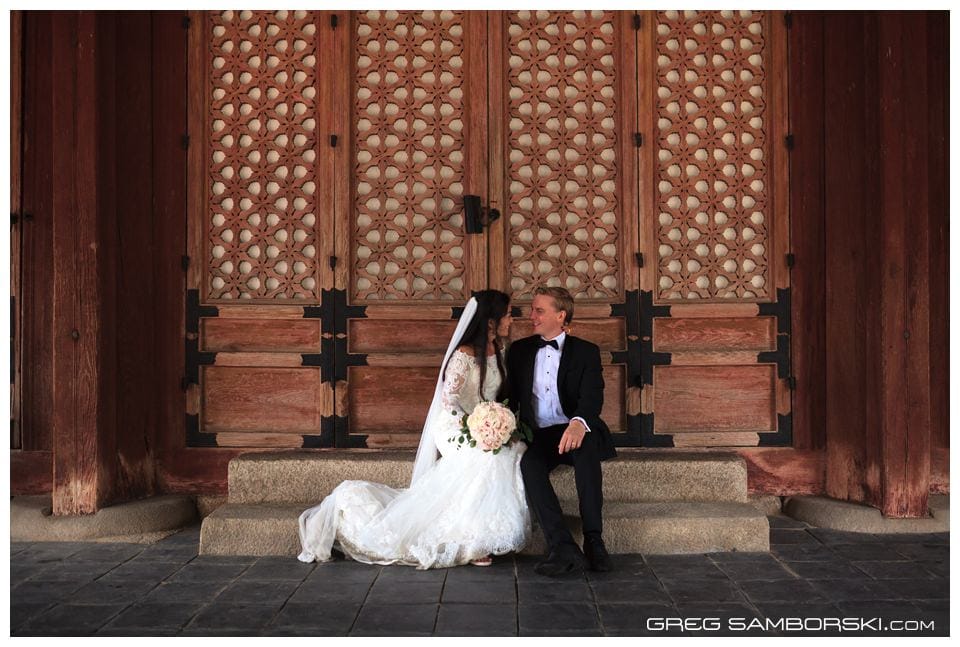 Seoul South Korea: It was raining on their wedding day but that didn't seem to phase Ulrika and Marcus one bit. The couple invited me to photograph their "intimate wedding at the Swedish Ambassadors Residence" in Seoul. I must admit, I was a little surprised when 24 people showed up including Ulrika's birth mother whom she'd met for the first time only a week ago. Ulrika was born in Korea and adopted by her Swedish parents. When I asked why they had chosen to marry in Korea there wasn't really a specific reason, it just felt like the right thing to do for them.
Believe it or not, this wasn't the first Korean born Swedish adoptee I photographed getting married at the Swedish Ambassador's Residence – it was the second! Perhaps this is why I had the smaller crowd in mind. Isabella and Alexander were my first and it was just six people in total in attendance. Now my second time in the Ambassador's house I felt like I was getting to know her a little 🙂
The rain didn't let up so we held the ceremony indoors. You cold have slipped a slice of bread in the toaster at the begging at you'd still have been waiting for it to pop at the end, that's how sweet and fast it all was. It was a very different feeling at this wedding that I can only assume is inherent to Swedish culture – a simple, genuine and heartfelt gathering. I'm so used to high energy weddings, the ones where I think sometimes the whole wedding party, the guests and even myself feel we MUST emphasize to everyone that we're having the BEST DAY OF OUR LIVES!!! For a moment I wondered if everyone was okay, but as I stepped back, and settled down, I realized this is just the way these people do it and it felt very authentic and refreshing to me.
Following the ceremony we all taxied to Changgyeonggung Palace for some post-wedding shots. The rain drizzled on and the overcast sky made for the softest lighting. We played with the light, shadows and textures around the palace. I loved that Ulrika was totally willing to trash her wedding dress, dragging it along the wet and muddy place cobblestone. The most heart warming thing happened when leaving the palace, a total stranger saw all 24 of us waiting outside for taxis and he pulled over and offered to drive as many as he could fit into his SUV to wherever we were going. Six piled in and asked to go to the Four Seasons Hotel.
The wedding party made dinner reservations at the Four Seasons Hotel in Seoul, hands down the best hotel in the city if you ask me. I grabbed a few more post wedding photos on the street and in the stylish Charles H Bar. Then I joined in on a glass of champaign and we parted ways.
It was such a pleasure to capture your day Ulrika and Marcus. Wishing you two a full life filled with love and happiness.