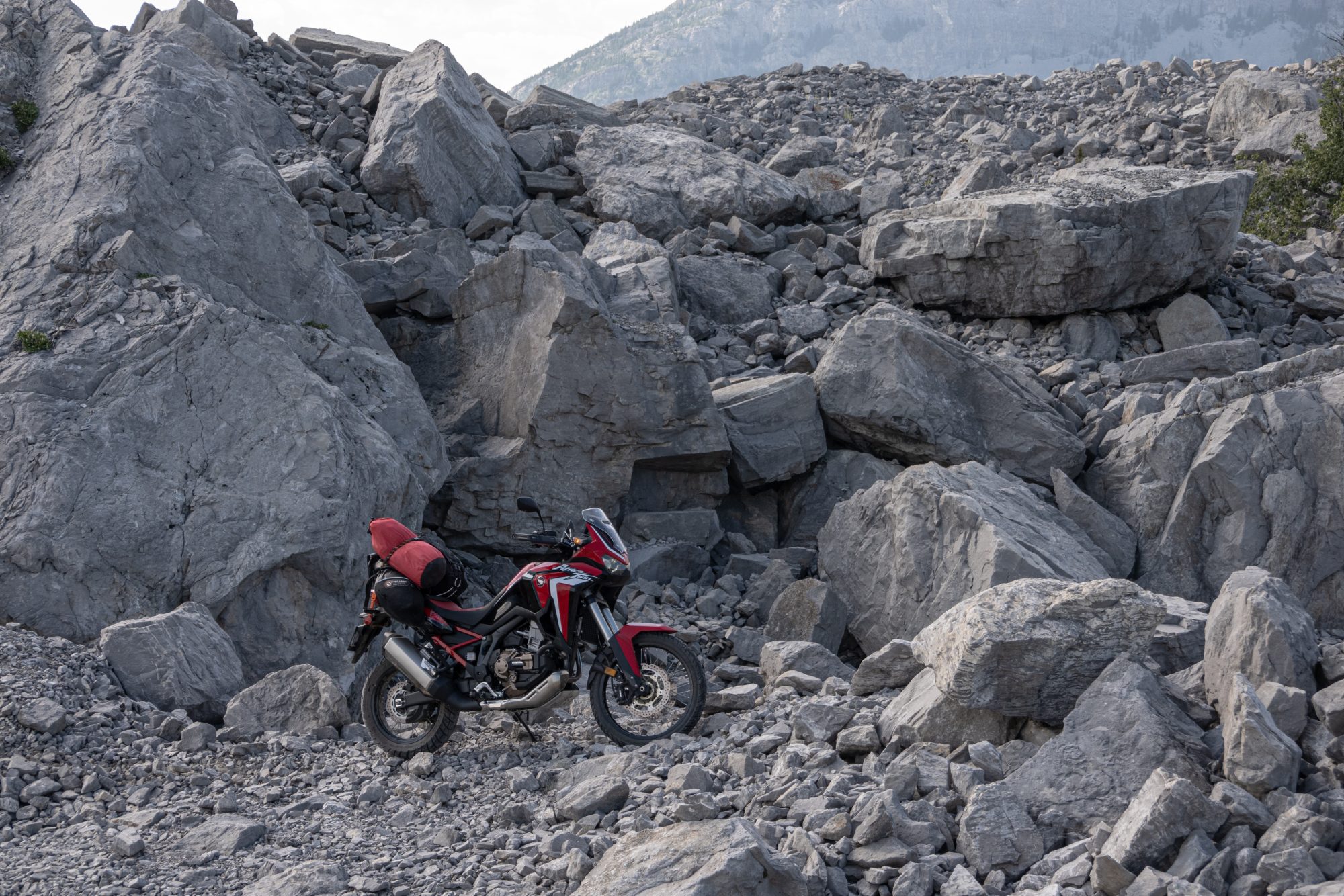 Introduction
Honestly, when faced with Fox Moto Rent's extensive selection of rental motorcycles here on Vancouver Island, the Honda Africa Twin 1000 DCT wouldn't have been my first choice. I would have likely passed it by, drawn instead to the alluring Yamaha Tenere 700 that captured my heart during my escapades in Oregon. Alternatively, the undeniably seductive but less off-road capable Indian FTR might have piqued my interest.
The thing is, this day I wasn't a renter; I was a worker who had just rung up Todd, the owner of Fox Moto Rent and said, "I was just about to book a flight to Calgary for a photo assignment when it struck me—maybe I could ride one of your motorcycles out there instead and create some content for your business."
My options were restricted to the bikes that remained unreserved for the next two weeks and those that could withstand the demanding 3000km round trip, laden with camping and work gear. Moreover, I needed a ride that I, myself, could handle under such circumstances without succumbing to exhaustion or discomfort, ensuring each new day would be met with unbridled excitement rather than searing agony.
Amidst the lineup, the Africa Twin DCT emerged as the undisputed champion, surpassing the 250 Honda CBR and the Yamaha MT-03. It seemed only logical to heed the seasoned advice of someone who has owned and ridden far more bikes than me.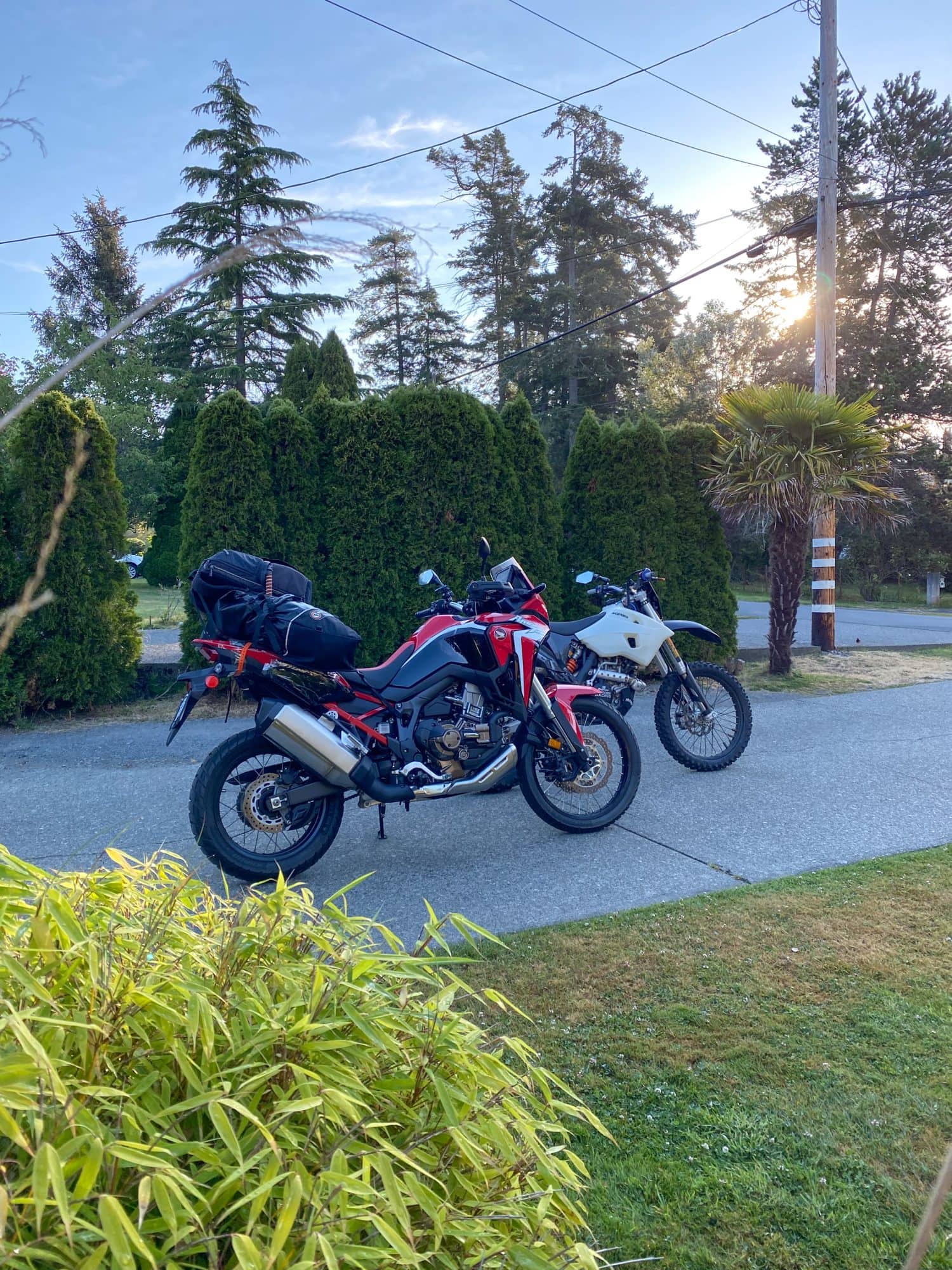 About Me
Speaking of me, to lend some credibility to this Africa Twin DCT review, I feel it necessary to share a brief overview of my biking background and riding style. For the past 23 years, motorcycles have been an integral part of my life, serving as my primary mode of transportation during my West Coast and Asian adventures.
Throughout my journey, I've owned a surprisingly modest collection of bikes, including the Suzuki GS550, DRZ 400s, Hyosung GS250, Hyosung GS650, Hyosung RX125, Honda CR 125, Suzuki 650 V-Strom (thankfully only for a brief period), and my true love, the KTM 500 EXC. But I've rented, borrowed and test driven countless others.
While my countless hours spent traversing roads, conquering dirt trails, and evading death by traffic in Asia and death by tree on Pacific North West single tracks have honed my riding skills, my knowledge of the intricate specifications and technical details of bikes themselves may seem somewhat lacking. Like the fleeting nature of RAM, I find myself storing only the pertinent information relevant to my current steed or the one I aspire to possess. Consequently, other details often make way for fresh knowledge. Thus, I must confess that I am not one to regale you with intricate details such as a minute two-degree adjustment in rake position on a certain bike from a specific year. My expertise lies in the art of riding itself.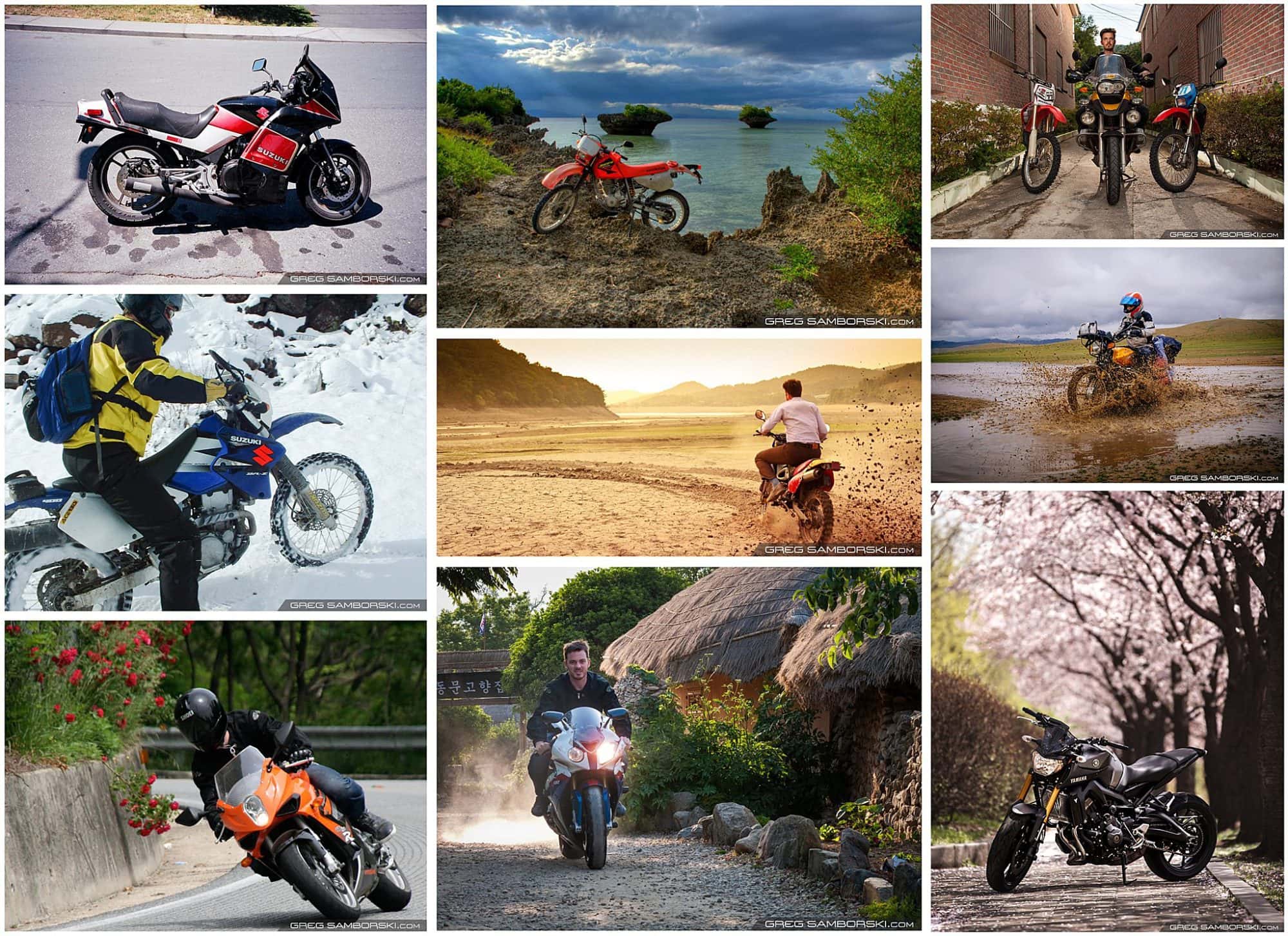 Intended Audience
This review caters to riders who prioritize the thrill of the ride over technical specifications and dyno charts. It specifically targets individuals who are considering renting the Honda Africa Twin DCT 1000 for the first time. If you're a traveler eager to hit the road without the need to pore over manuals or rely on endless YouTube tutorials to familiarize yourself with the bike, then this review is tailored to your needs.
Approaching this review from the perspective of a rider who was initially unaware of the bike's features, including its clutch-less nature (and yes, I'll admit a tinge of embarrassment about that), I will recount my firsthand experience of riding the Africa Twin DCT 1000 on an epic 3,000km adventure spanning diverse terrain, from concrete highways to off-road trails on my voyage over the Rockies.
Throughout this review, my focus will center on the bike's intuitiveness, highlighting the differences I noticed compared to my previous rides, and assessing its performance during this particular road trip. I will share my discoveries in the same chronological sequence in which they unfolded, allowing you to embark on this journey of exploration with me. So, without further ado, stands up!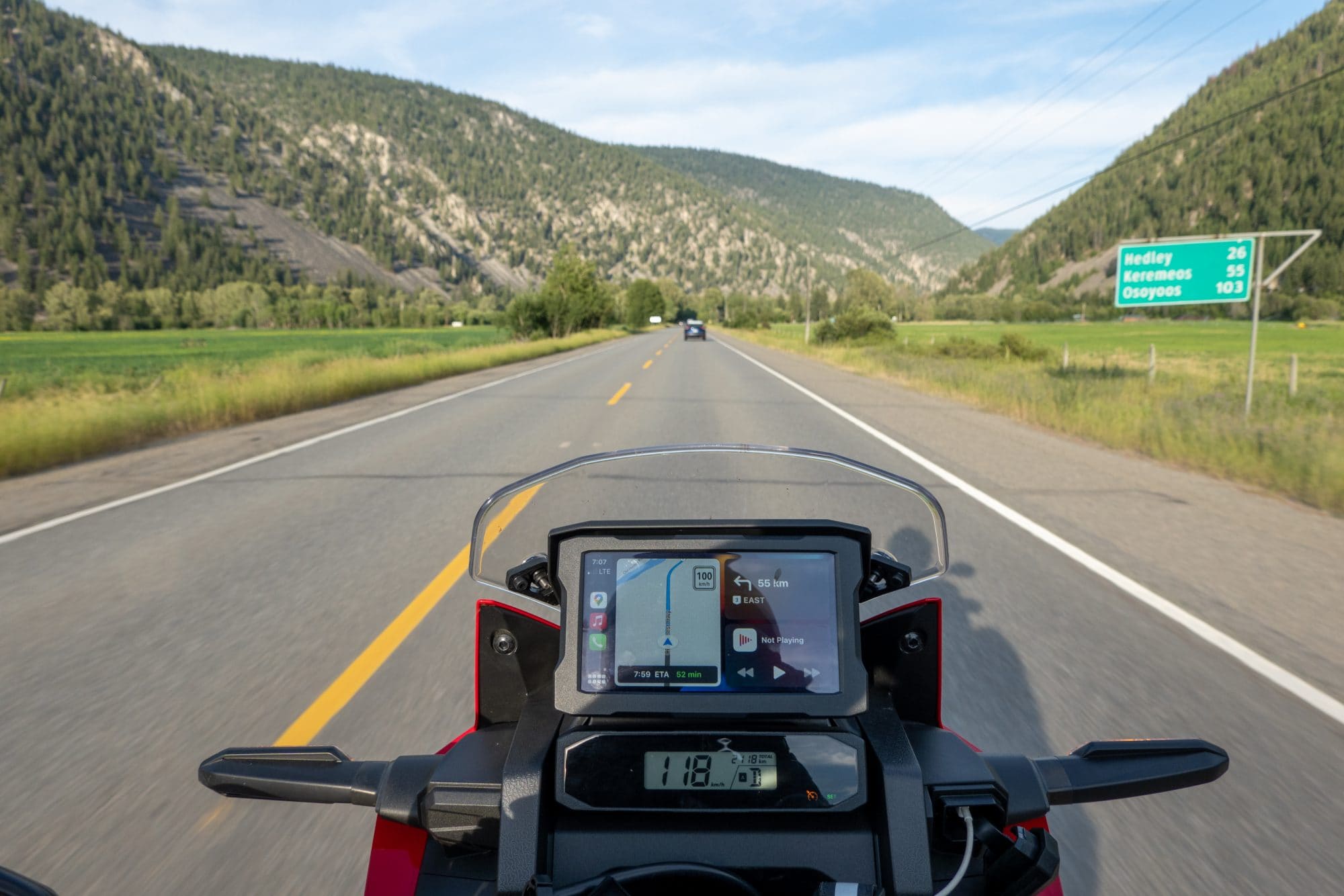 Shifting / DCT
At first glance, the Africa Twin DCT may appear like any other large adventure bike to the untrained eye. However, a peculiar sight catches your attention: a large black lever protruding from the handlebar, seemingly bent out of shape. But here's the twist—it's not a clutch lever; it's a parking brake. And thus, the eccentricities of the DCT (Dual Clutch Transmission) begin to unfold.
DCT stands for Dual Clutch Transmission, which means this bike operates like an automatic, similar to your car. Admittedly, the prospect of an automatic motorcycle might not immediately strike you as thrilling, but allow me to share my surprise at just how enjoyable it turned out to be.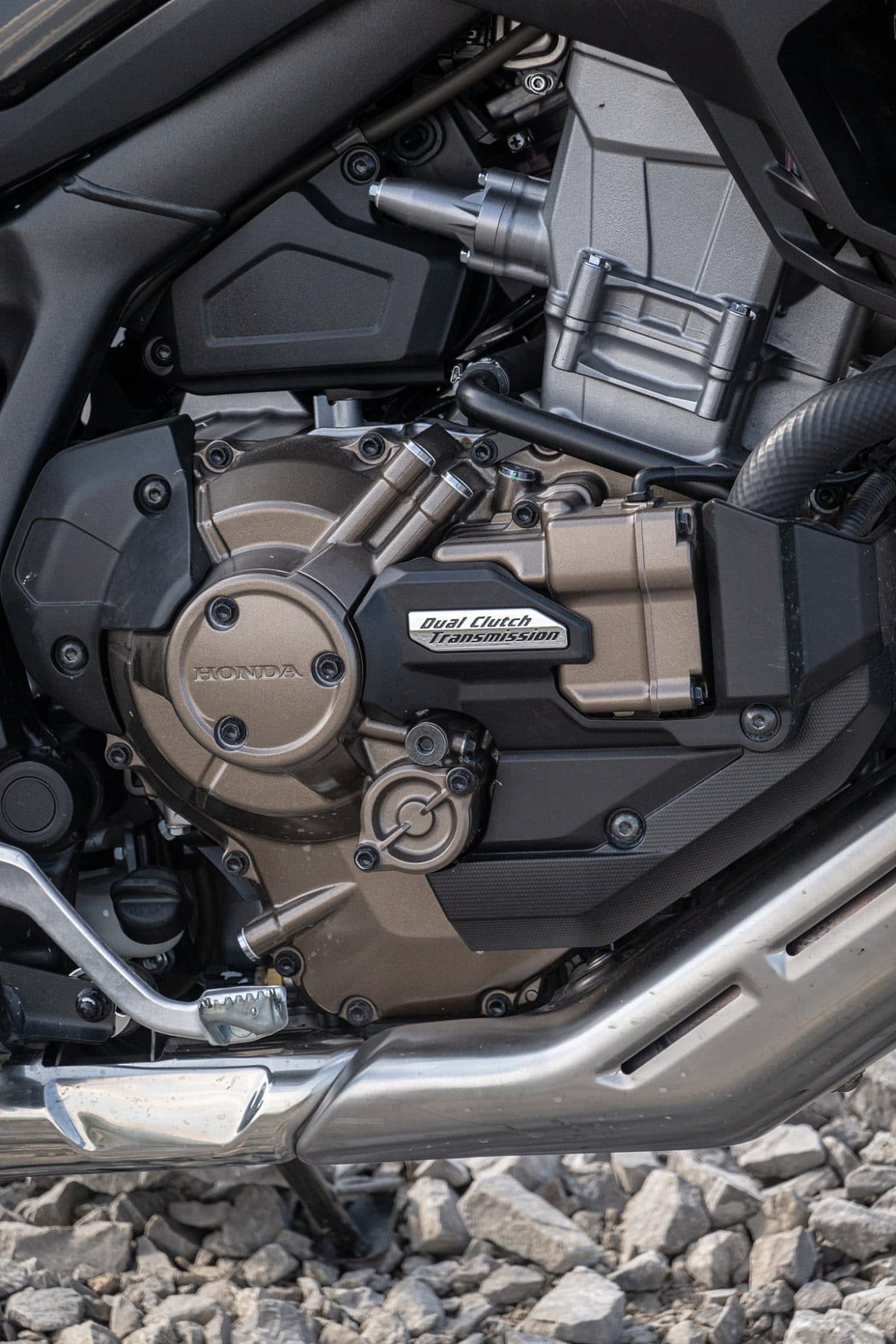 Starting
Before even firing up the engine, you'll notice something unconventional. The absence of a gear shift lever means the bike is always in neutral when stationary. And when you reach for the non-existent clutch lever to start the engine, you'll find yourself grabbing a hand full of air. Against your better judgment, you put your trust in the bike being in neutral and press the starter button. But here's the kicker—not only does it start, but it practically starts itself; a mere tap of the button is all it takes, unlike any other bike I've owned where you need to hold it down until the motor catches. I must admit, it's rather impressive!
Off We Go
To engage first gear, you press yet another button—the D for drive button. You'll feel a distinct clunk as the transmission engages, and with a gentle twist of the throttle, the bike springs into motion.
As the DCT auto-shifts seamlessly through the gears during acceleration, it still feels peculiar to have a computer determine when the shifts occur. Personally, I find it tends to upshift at lower RPMs, resulting in a somewhat luggy feel. The instinct to downshift and reach for the clutch persists for the first 138 or so stop lights and signs, only to realize there's nothing there to grab but air. Perhaps that's precisely why the parking brake lever is positioned so far out of reach.
It's remarkable how quickly we humans adapt to these quirks, though. By the end of my first day, I had grown accustomed to doing nothing and relished in the newfound freedom to utilize my left hand for other tasks, like securely holding a camera during deceleration! Todd warned me that shifting back to a regular bike feels equally strange—you'll catch yourself forgetting to downshift at stoplights.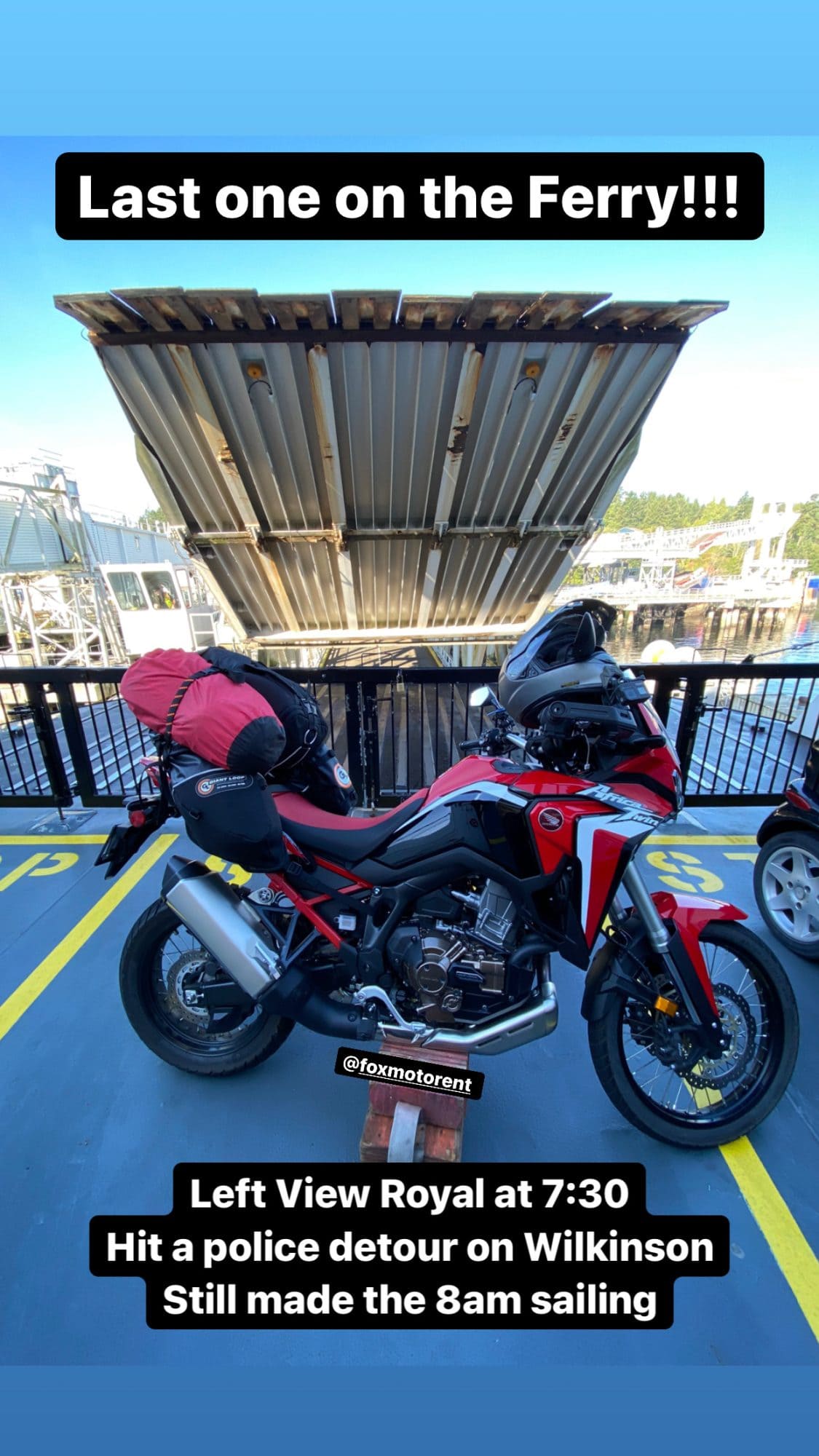 Shifting Performance
As I mentioned earlier, the shifting experience in D mode left me feeling a bit underwhelmed and this coming from someone who tends to linger in the lower RPM range on dirt bikes, the premature and luggy shifting felt unfamiliar. In D mode, the bike quickly goes through all six gears by the time it reaches 60 km/h, and from 61-204 km/h, it remains in 6th gear entirely. If you suddenly open the throttle, the bike will often downshift to accelerate and then upshift again.
Sport mode, denoted by an S, made a noticeable difference. It pushed the bike to rev higher in each gear before shifting, resulting in smoother shifts and more pronounced engine braking. I found myself using this mode most frequently because it felt more akin to a sport bike and less like a tractor.
There's also the M option, which stands for Manual. In manual mode, you have full control over shifting using the paddle shifters on the left handlebar. I primarily used this mode off-road, as it proved ideal for navigating twisty dirt trails and more technical sections leading to and from my campsites.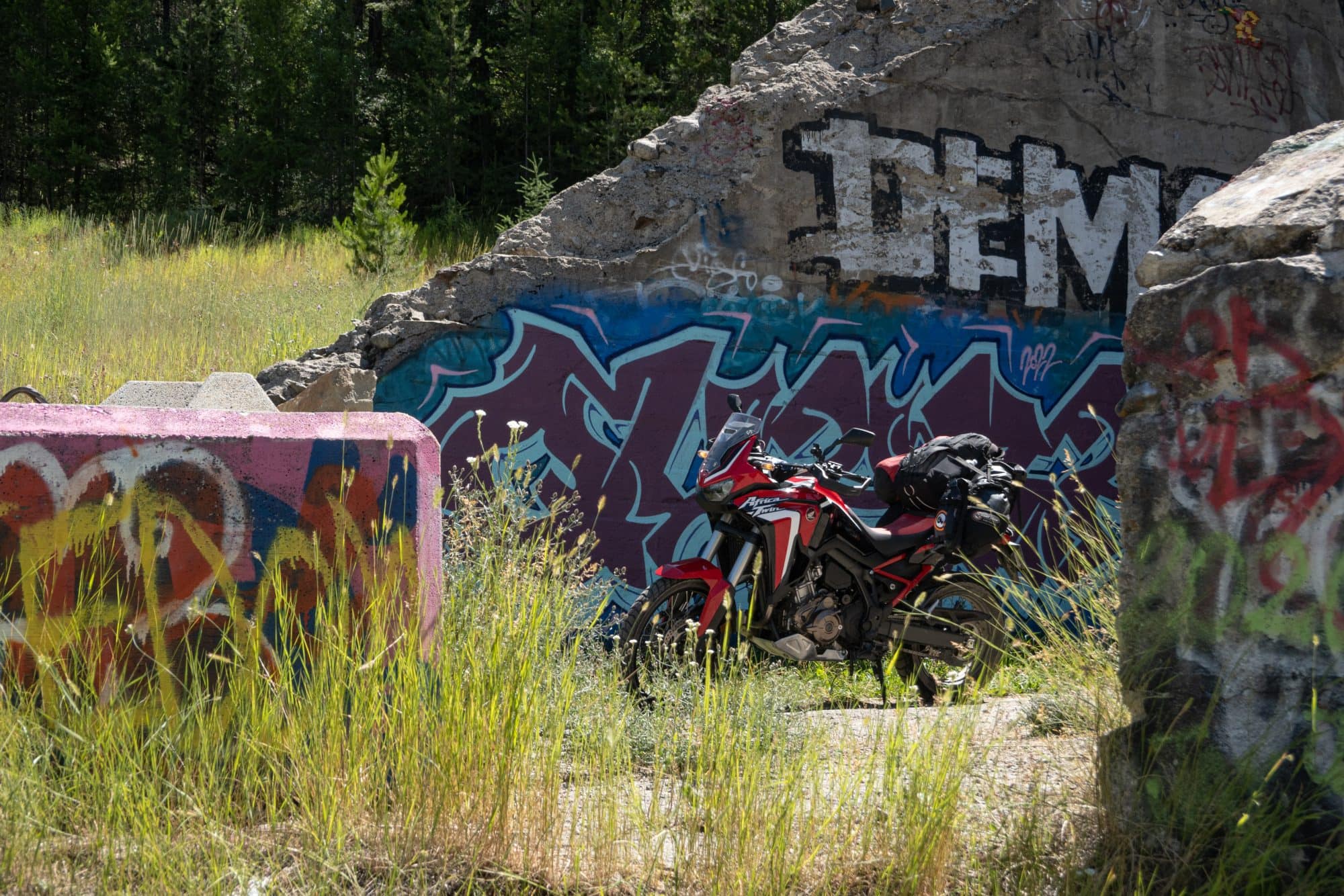 Override
One interesting feature of the DCT is the ability to temporarily override the shifting in any of the other modes. So, when approaching an exciting corner in Drive or Sport mode, I would often kick it finger it, down a gear or two for some engine braking and to keep the RPM in the desired range. The DCT would automatically take over shifting again. It's challenging to pinpoint the exact moment when it resumes control; I can say it never happened in a way that jeopardized my safety. However, on occasion, it would shift back up sooner than I would have preferred. For the most part, it felt like the DCT resumed control once I had completed the corner or achieved what I wanted, and it was always eager to shift up.
Parking Brake
When I finally had to park on a hill, it felt odd not being able to put the bike in gear. Even more peculiar was the need to engage and lock the parking brake lever. The pull required is surprisingly light, and once you get the hang of it, engaging and disengaging can be done with just one hand.
Considering the extensive technology and automation incorporated into the Africa Twin DCT, along with the effort to position the lever out of the way, one would expect a more conspicuous warning system for when you inevitably ride off with the parking brake engaged. How about a large flashing yellow triangle on the LCD screen accompanied by a blaring horn? Is that too much to ask? Or perhaps a simple beep? The tiny red brake indicator on the dash failed to catch my attention until I had already been on the road for 10 minutes. Fortunately, the brake wasn't significantly engaged, so no visible damage or bad smells.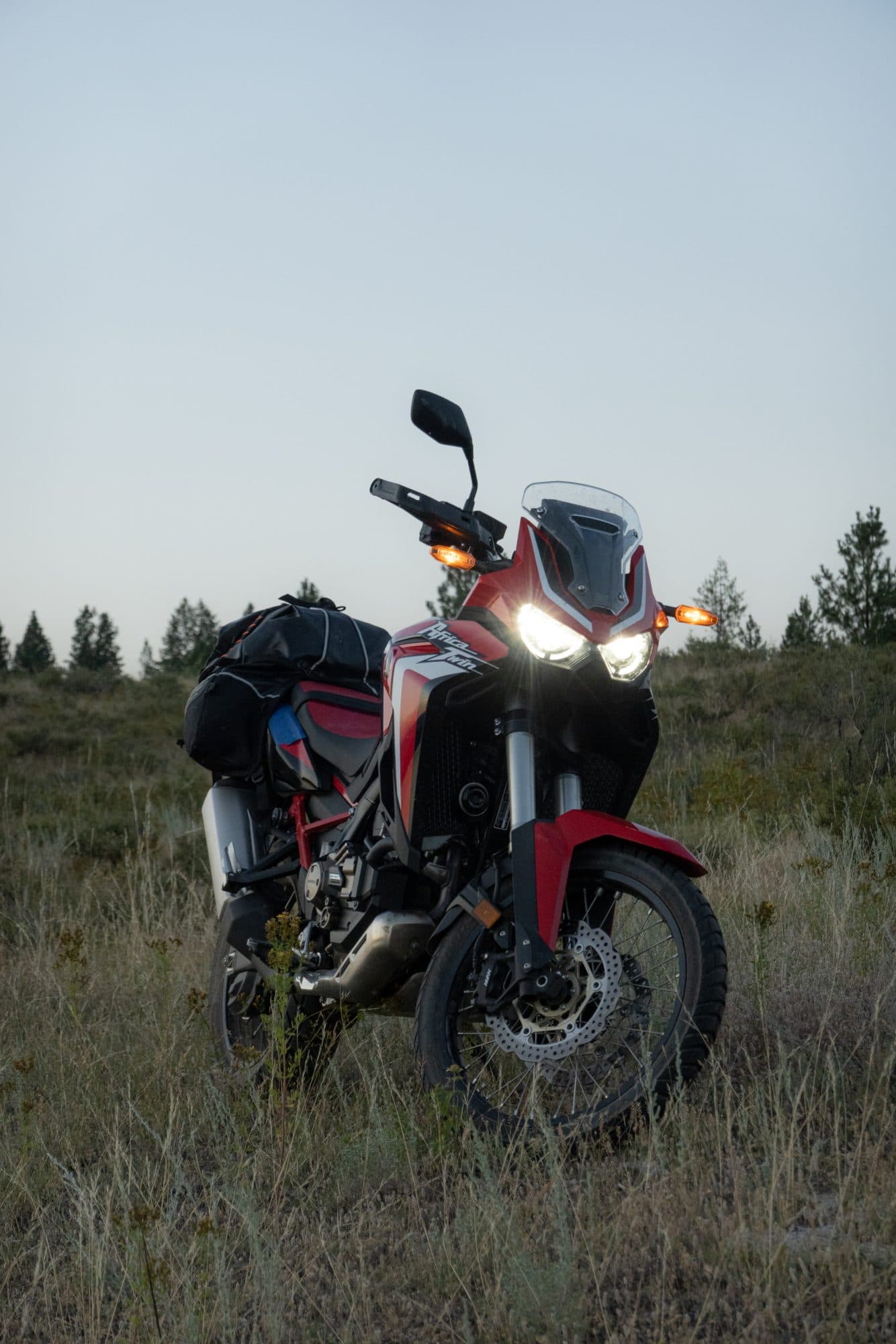 Control Cluster
The control cluster of the Africa Twin DCT is truly impressive, with a multitude of buttons to manage all the bike's features. There are four rider modes to choose from:
Tour
Urban
Gravel
Off-Road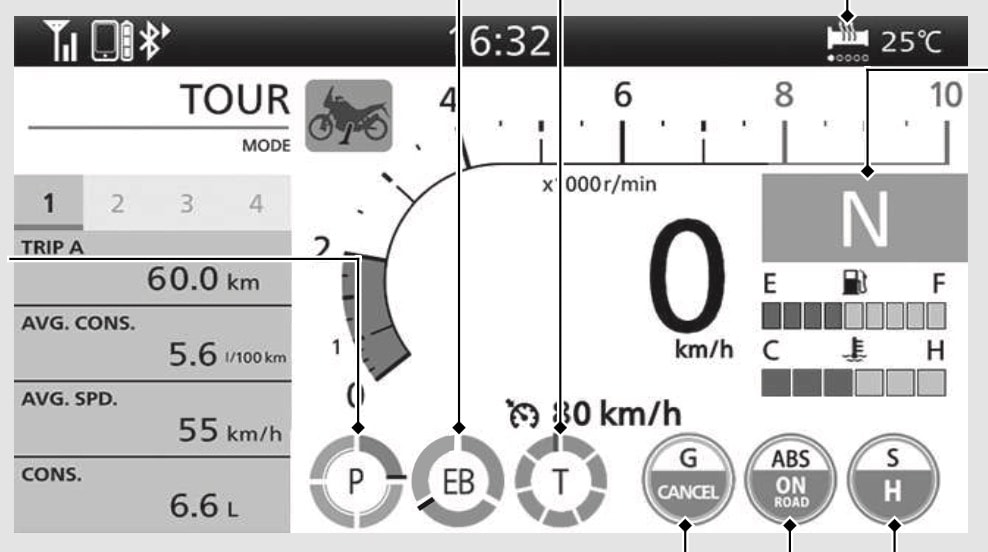 Additionally, User 1 and User 2 modes are available, allowing for customized settings. Inside of each of those mode you can adjust the P, EB, T, G, ABS and S. Now if you are wondering what the hell all that means mean don't feel bad, I had to finally pullover and pull up YouTube video to explain.
P (Power)
EB (Engine Brake)
T (Torque Control)
G (G Switch)
ABS (Antilock Braking System)
S (Suspension Damping Overall – Hard/Soft/Off-road)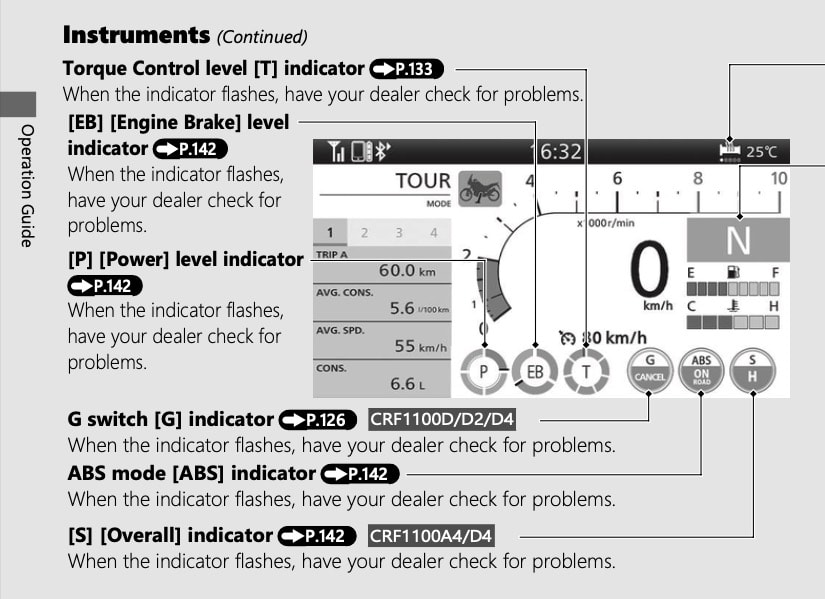 When you go to adjust these settings it is anything but intuitive. More cryptic abbreviations, many that don't even make sense and are inconsistent. Even YouTube and web forms couldn't always answer my questions.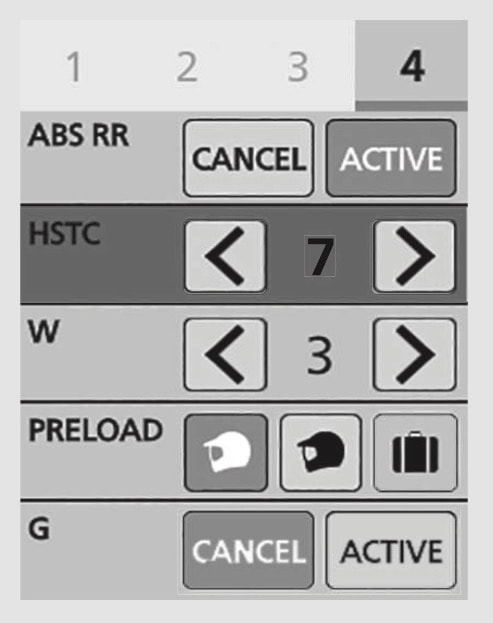 I actually had to find THE HONDA AFRICA TWIN DTC MANUAL so I could be sure I wasn't leading you astray below:
ABS RR: ABS Rear Wheel (Why not ABS RW?)
HSTC: Honda Selectable Torque Control (Basically Traction Control)
W: Wheelie Control
Preload: Rear Suspension Preload Mode
G: G Switch (G for Gravel, perhaps?)
IMU: Internal Measurement Unit
It's a freaking digital display!!! Is Honda not aware that you can choose a smaller font or put a little help question mark there to explain these features?
Once you decipher the abbreviations, understand their functions, and learn how to adjust them, it becomes smooth sailing. Personally, I prefer maximum power and disabling party-pooper-computers that are trying to tame my power-slides and wheelies.
These were my preferred settings:
P/Power: Maximum (1) (Wouldn't "4" be more intuitive?)
EB/Engine Braking: Medium (2)
T/HSTC/Honda Selectable Torque Control: Off or Minimum (1)
G: Off
ABS: Off Road
S: Depends on Terrain
ABS RR/ABS Rear Wheel: Off (OFF ROAD MODE / USER 1 / USER 2) (Why not allow us to adjust it like the others?)
W/Wheelie Control: Off (0)
Preload/Rear Suspension Preload Mode: Depends on the load I'm carrying
G/G Switch/Off-road Traction Control: Off (The only way to permanently disable it is in USER 1 MODE / USER 2 MODE)
In hindsight, I realize that I may have misunderstood a few things. For instance, I incorrectly believed that level 4 represented maximum power. Who wouldn't assume that when the circle is fully filled? Additionally, I might not have fully disengaged traction control because I recall instances where it kicked in during steep sections, nearly causing me to slide down backward!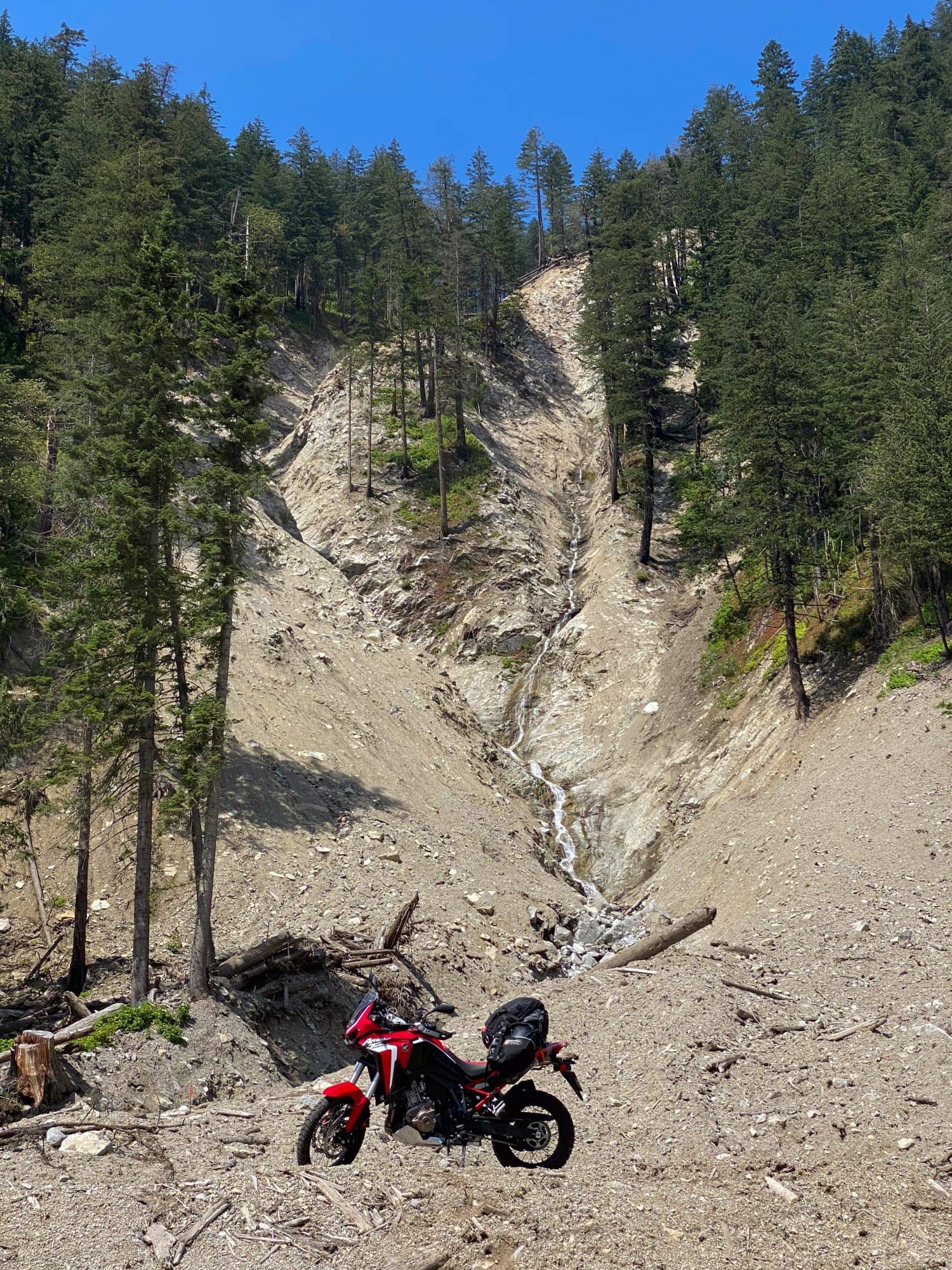 Apple CarPlay
Having Apple CarPlay available on the Honda Africa Twin DCT was a fantastic feature for me. I typically don't ride with headphones (they hurt my ear-holes), so having access to music, podcasts, Siri, and navigation right at my fingertips was a game-changer. Keith from our local Vancouver Island Riding Community was kind enough to lend me his Sena. Connecting my iPhone via USB lightning cable or Bluetooth allowed me to enjoy a fully plugged-in experience. The integration of Apple CarPlay was seamless and intuitive, even though I didn't have it in my car.
I'm all about fusing a playlist to a road trip, so I put the same three Mount Doyle Eats Pizza mixes on a loop for the entirety of my trip, and I gotta say, it was awesome cruising to tunes. I found the Sena speakers too underpowered, and the wind noise too high to be able to follow any podcasts, so I stuck with music.
The convenience of being able to keep my phone charged through the accessory USB while using Siri, taking calls, and navigating was a level of comfort I had never experienced on a motorcycle before. It almost felt too comfortable. If Honda could integrate GoPro control into the system via Bluetooth, allowing me to start and stop recording on my GoPro with a button on the handlebar or through voice commands, it would take the documenting of my moto adventures to a whole new level.
It didn't take long for me to figure out that the touch screen input gets locked once you start moving. Presumably Honda or the DOT considers it safer to squint at the screen to try and see which button is selected and then make 33 inputs with your thumb on the handlebar joystick rather than touch the screen when you want to change albums.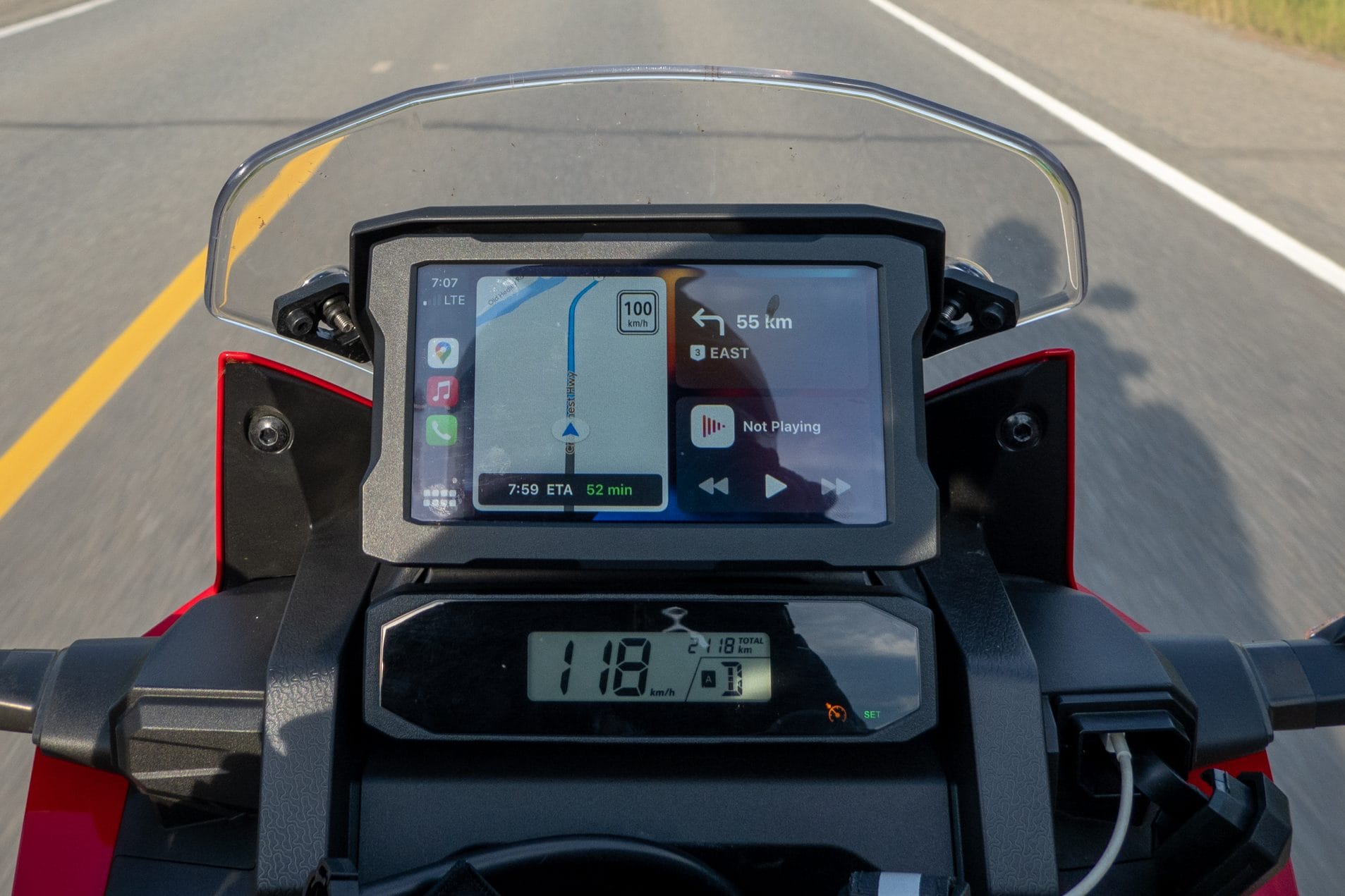 Cruise Control
Cruise control is absolutely fantastic! I know it may sound lame, but when you're riding on long, monotonous stretches of highway, like the prairies, cruise control becomes a real lifesaver. It takes the strain off your foot or wrist, and you can effortlessly maintain a steady speed just below the posted limit to avoid those pesky speeding tickets. I mean, who wouldn't appreciate that?
When you combine cruise control with a bike that has automatic shifting, it's like having a self-driving vehicle. YES, I KNOW this is not safe. Riding motorbikes is inherently unsafe so please no lectures. But from a practical standpoint, having cruise control and automatic shifting is a game-changer for documenting motorcycle adventures.
As someone who frequently captures footage and photos during rides, I can tell you it's a juggling act to shoot from a moving motorcycle. You either have to choose your gear and shoot left-handed, which is extremely difficult since pretty much all cameras are made for left handers, or use your left hand for throttle and steering, which takes practice and is most sketchy. Another option is to accelerate, take both hands off the handlebars, grab your camera from your lap, snap a quick shot during deceleration, and repeat the process. However, this method is less than ideal and can lead to shaky photos due to sudden deceleration.
But imagine the joy of being able to operate a camera with both hands while maintaining a consistent speed, thanks to cruise control and automatic shifting! The Honda Africa Twin DCT becomes the perfect choice for capturing content on paved roads or gentle dirt roads. You can free up your hands to focus on getting those perfect shots. I even found myself tucking my hands down over the radiators to keep them warm during a particularly cold late-night ride to Revelstoke to meetup with Range Road Moto and Emily Roberts.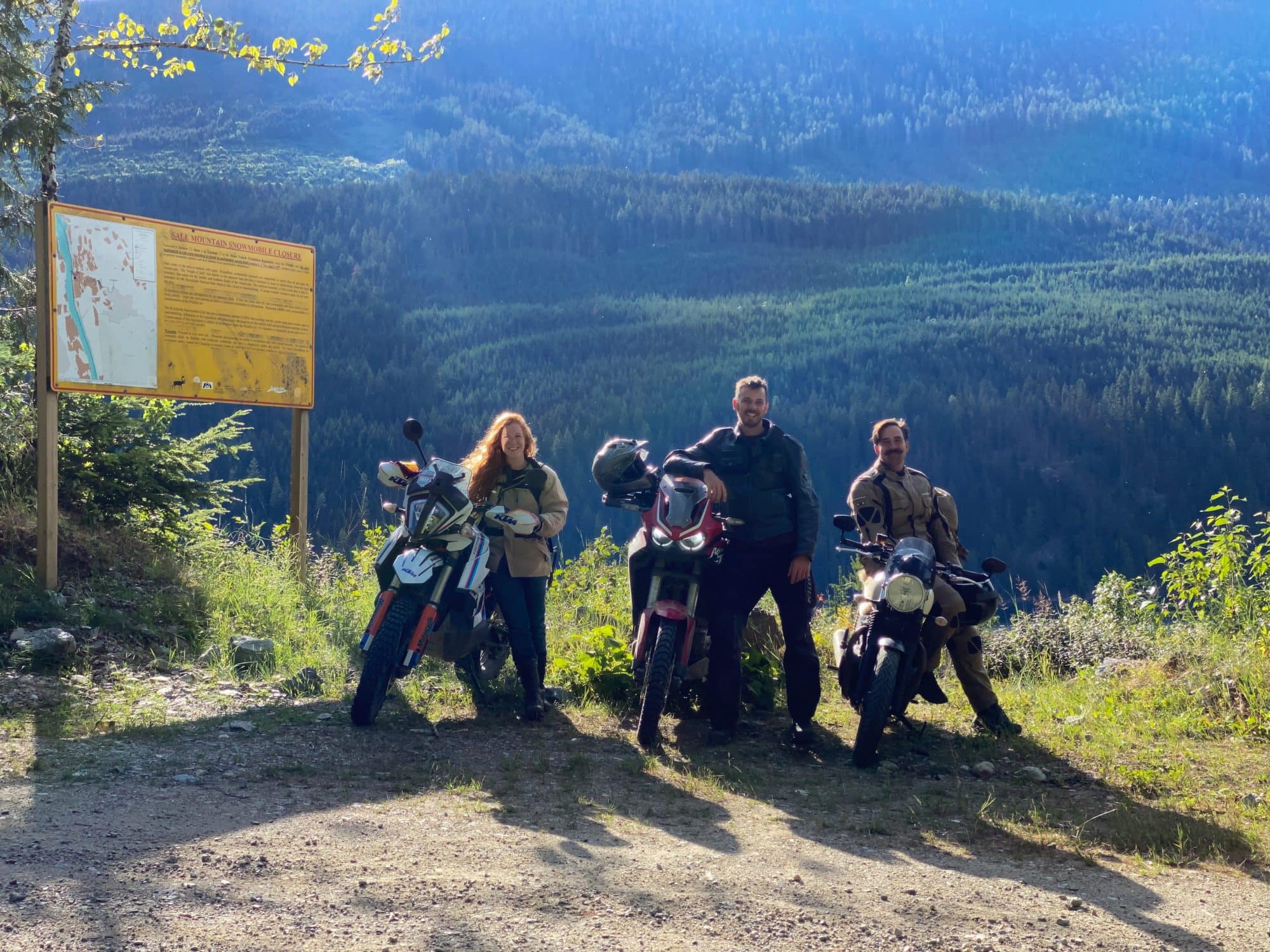 Have you ever tested how long you can ride with no hands? It's quite an intriguing experience. I've covered distances of 30-40km without using my hands on the handlebars, and not just on the prairies. It's fascinating to discover how to navigate corners solely through body lean, relying on the bike's natural dynamics.
But let's talk about those moments when the open road stretches endlessly before you, and boredom starts creeping in like an unwelcome passenger. In those instances, I decided to take the concept of multitasking to a whole new level and brushed my teeth while riding.
Picture the scene: toothbrush in one hand, toothpaste in the other, and the motorcycle humming beneath me. As the miles disappeared beneath my wheels, I confidently tackled plaque and tartar. Who needs a mundane bathroom sink when you can embrace the thrill of dental hygiene on the go?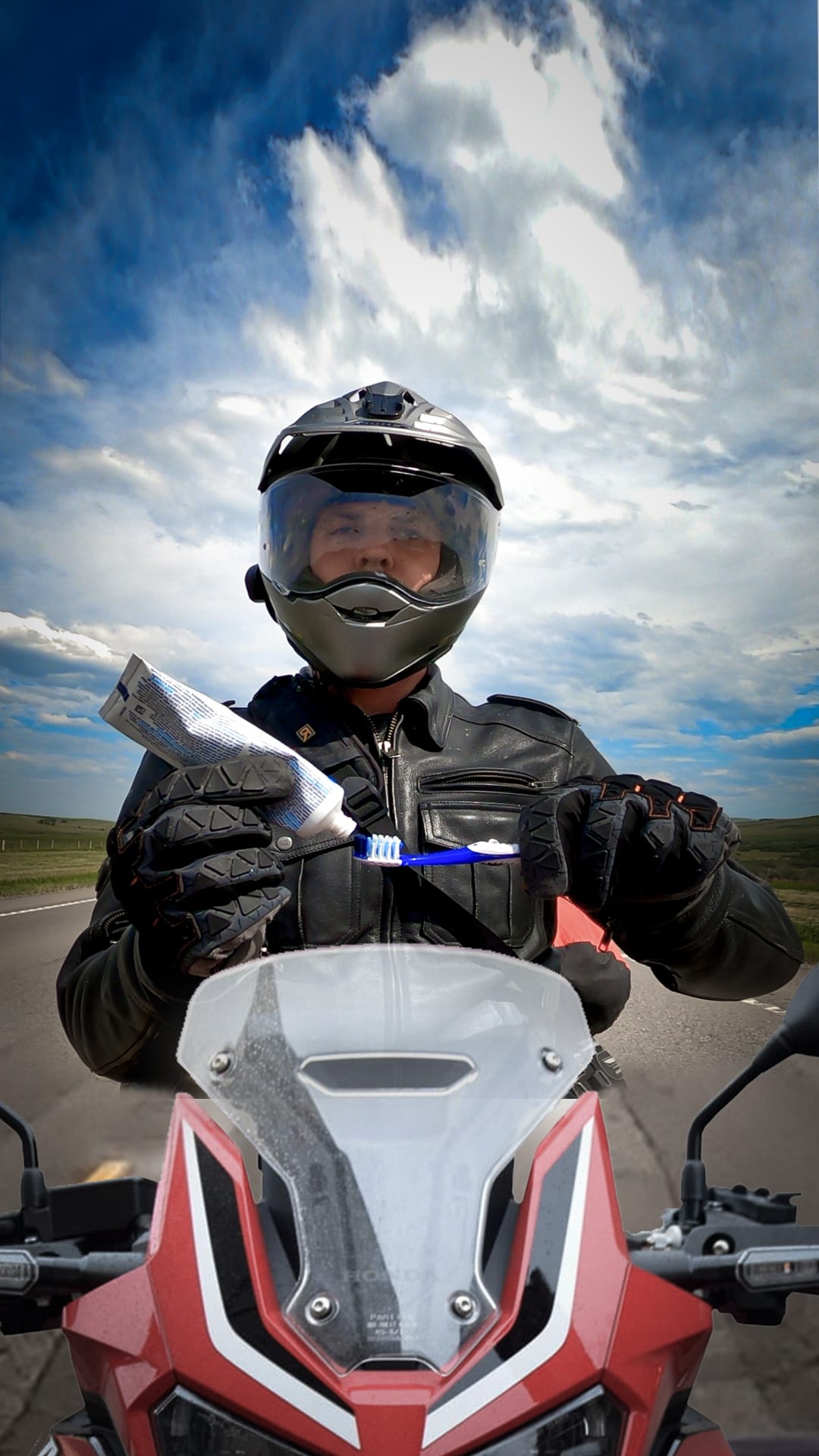 Ride Modes
I found myself spending most of my time in SPORT mode on the highways and OFF-ROAD mode when tackling dirt roads. Looking back, I wish I had set up a USER 1 profile to save my settings and make them even more aggressive.
Luggage System
I had quite a unique packing situation on my hands. Along with the usual travel essentials, I needed to bring a set of formal work clothes and extra camera gear for a shoot in Calgary. Luckily, the Giant Loop Coyote rackless saddle bags came to the rescue. They held most of my essentials and attached nicely to the Africa Twin DCT, despite its wide frame. I strapped my tent, sleeping bag, and sleeping mat to the top of the Coyote bags, creating a bit of a tower. It wasn't the most elegant setup, but it got the job done, and my camera backpack even acted as a makeshift backrest!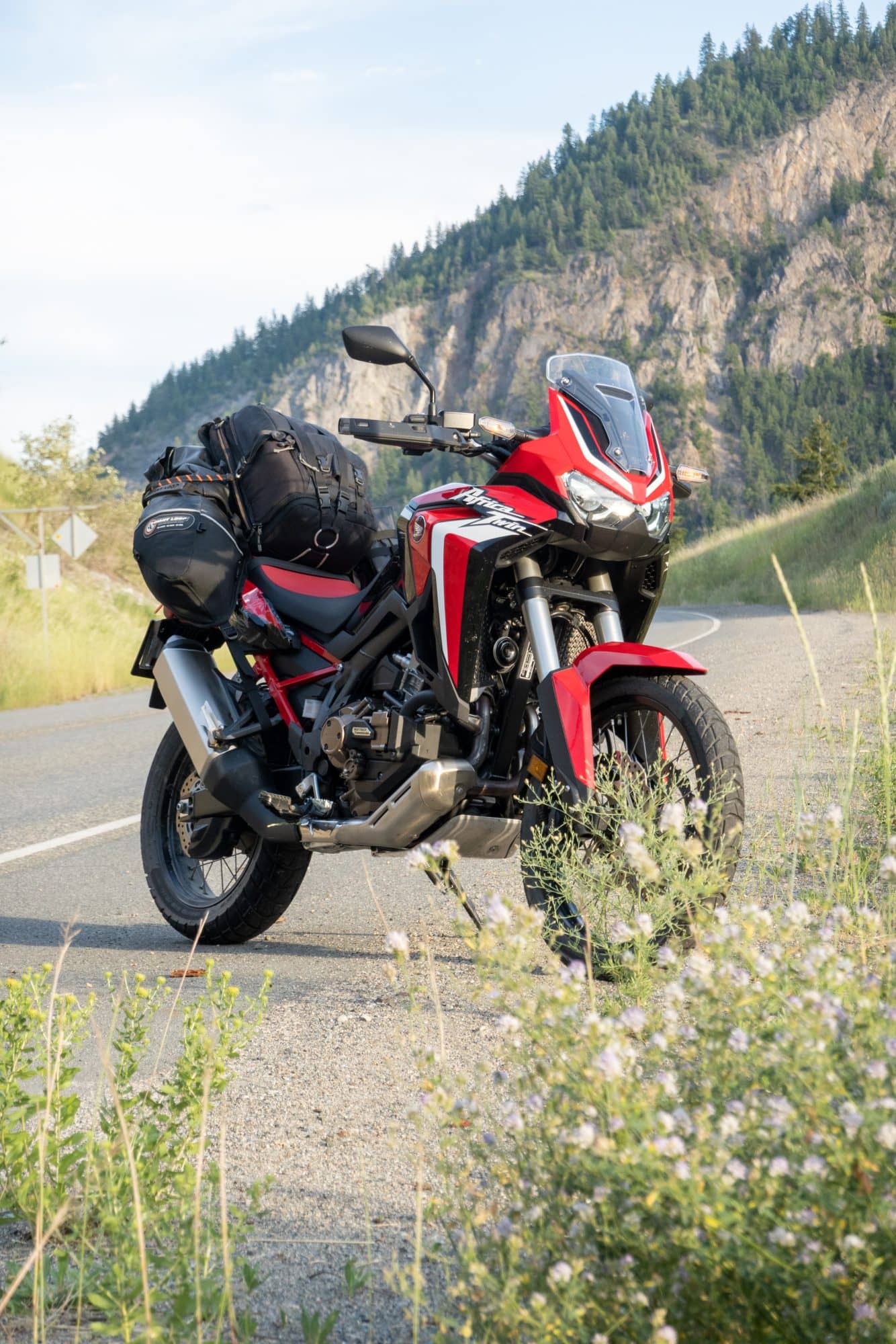 Fuel Capacity
Ah, fuel capacity—the lifeline that keeps us pushing forward on our grand escapades. The Africa Twin DCT proved to be a reliable companion, offering an average of approximately 380 kilometers per tank. I appreciated automatic adjustment of the remaining range which seemed accurate for the most part. Though I didn't run her completely dry for test purposes, I got the feeling the low fuel warnings came on extra early, like the programmers really didn't want us to get stranded out there.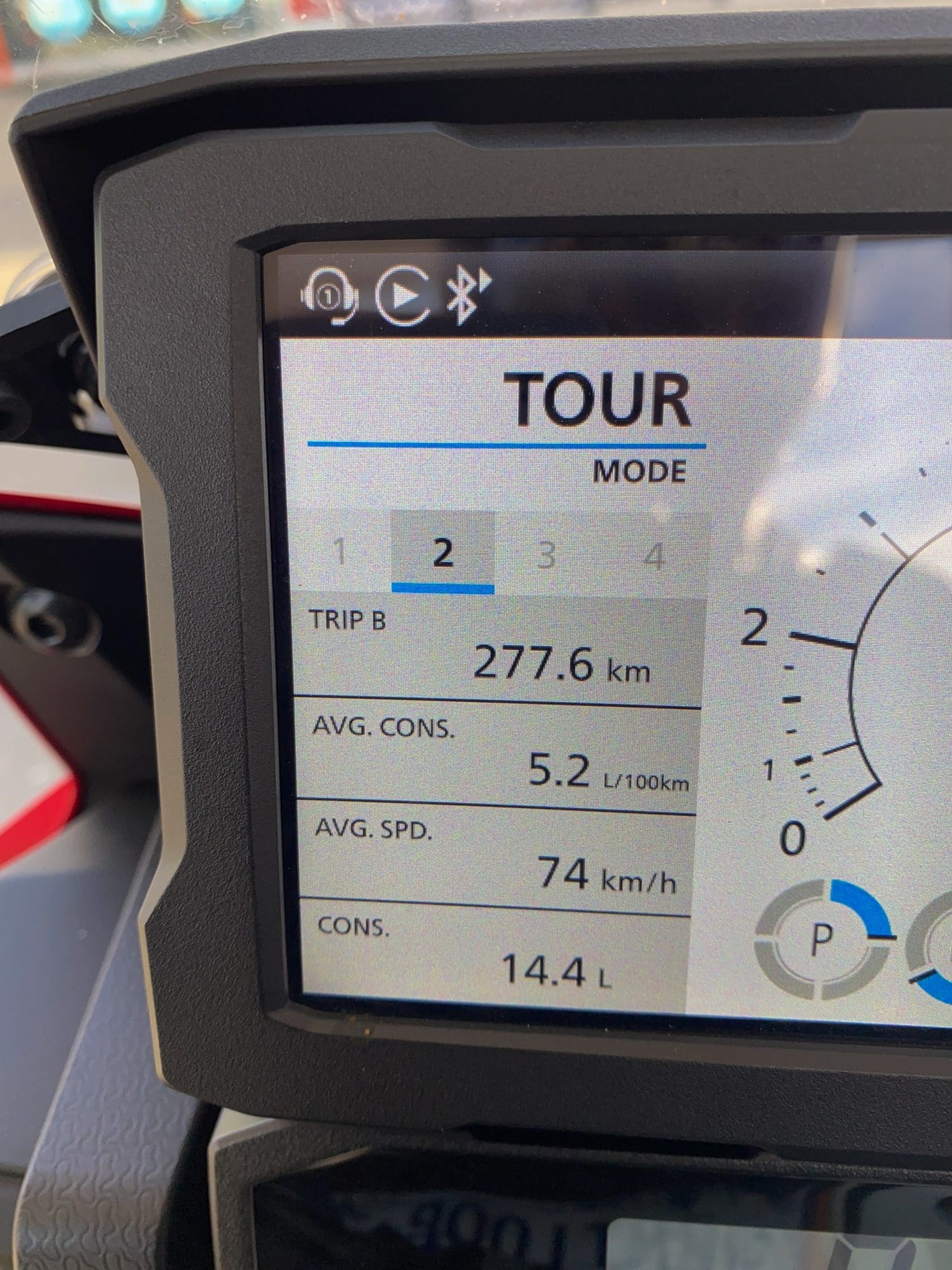 Handling – On Road
I must say, I was pleasantly surprised with how the Africa Twin DTC handled on the roads, no complaints whatsoever. While it is no rocket ship in terms of acceleration, it satiated my need for speed. As I navigated the beautiful twisties coming out of Osoyoos, I pushed the bike and leaned hard into those corners. I even managed to scrape some pegs. Throughout the ride, the Africa Twin felt planted and never gave me any jitters or instability. Now, if I were to be a bit greedy, I'd ask for more torque, acceleration, and a higher top speed – but who doesn't want more of that?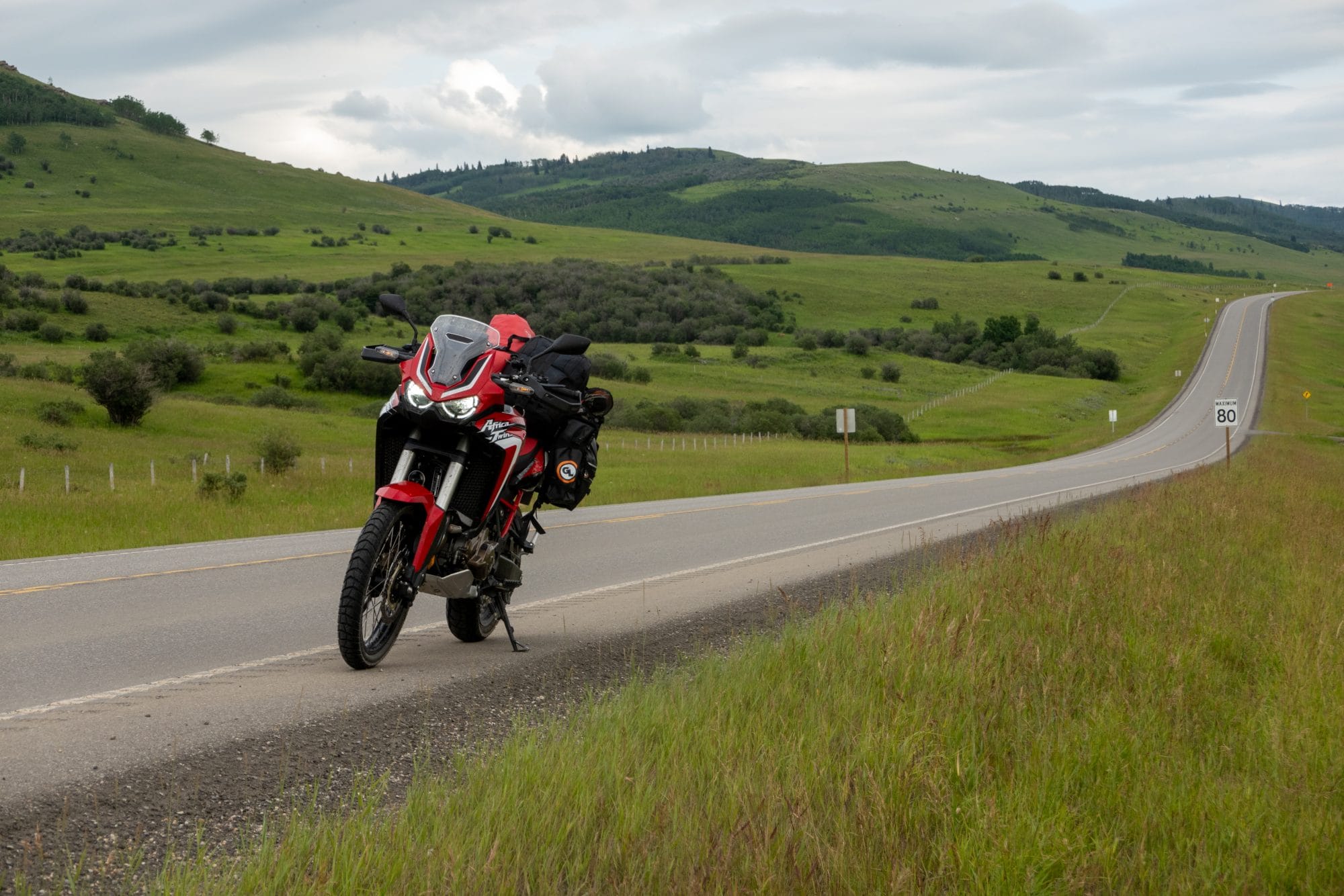 Handling – Off Road
The Africa Twin is a big, 551-pound, fully automatic bike with touring tires. I ride a nimble 245-pound plated dirt bike with 54 horsepower and tires that can tear your face off. I fully expected to be disappointed but was pleasantly surprised. It's important to note that I wasn't aiming to conquer the same terrain as I would with my dirt bike. Instead, I wanted a bike that could confidently navigate fire roads and delve into the heart of the backcountry, and the Africa Twin delivered exactly that. Of course I had to push its limits a little on more challenging off-road sections, and it proved to be quite capable. With improved tires and the right adjustments, I have no doubt that I could have pushed it even harder, taking on more demanding trails with ease.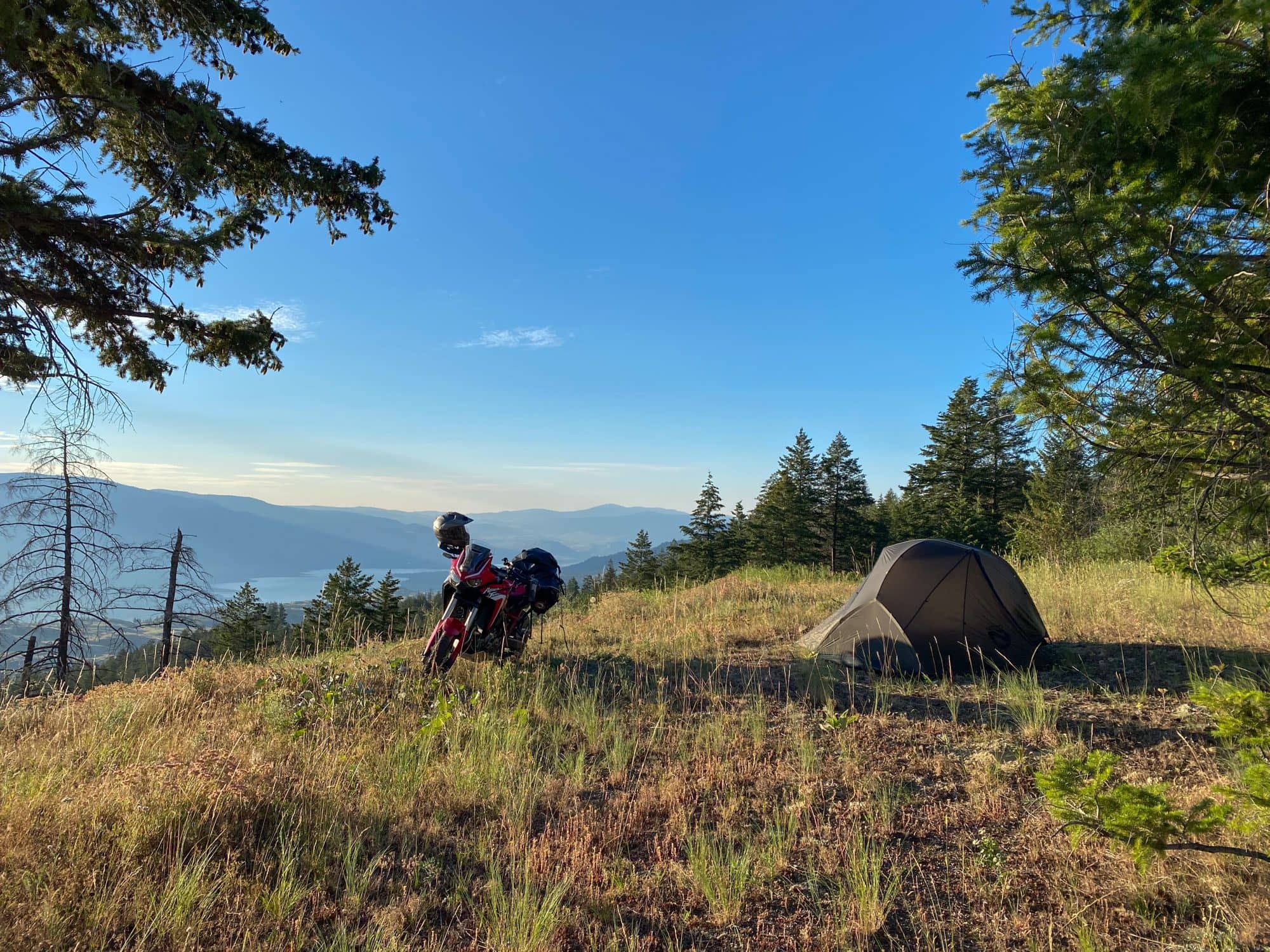 Suspension
Now, suspension is still somewhat of a mystery to me. While I can't provide an in-depth analysis, I can tell you that it didn't suck. It soaked up the bumps and provided a comfortable ride, allowing me to focus on the adventure ahead.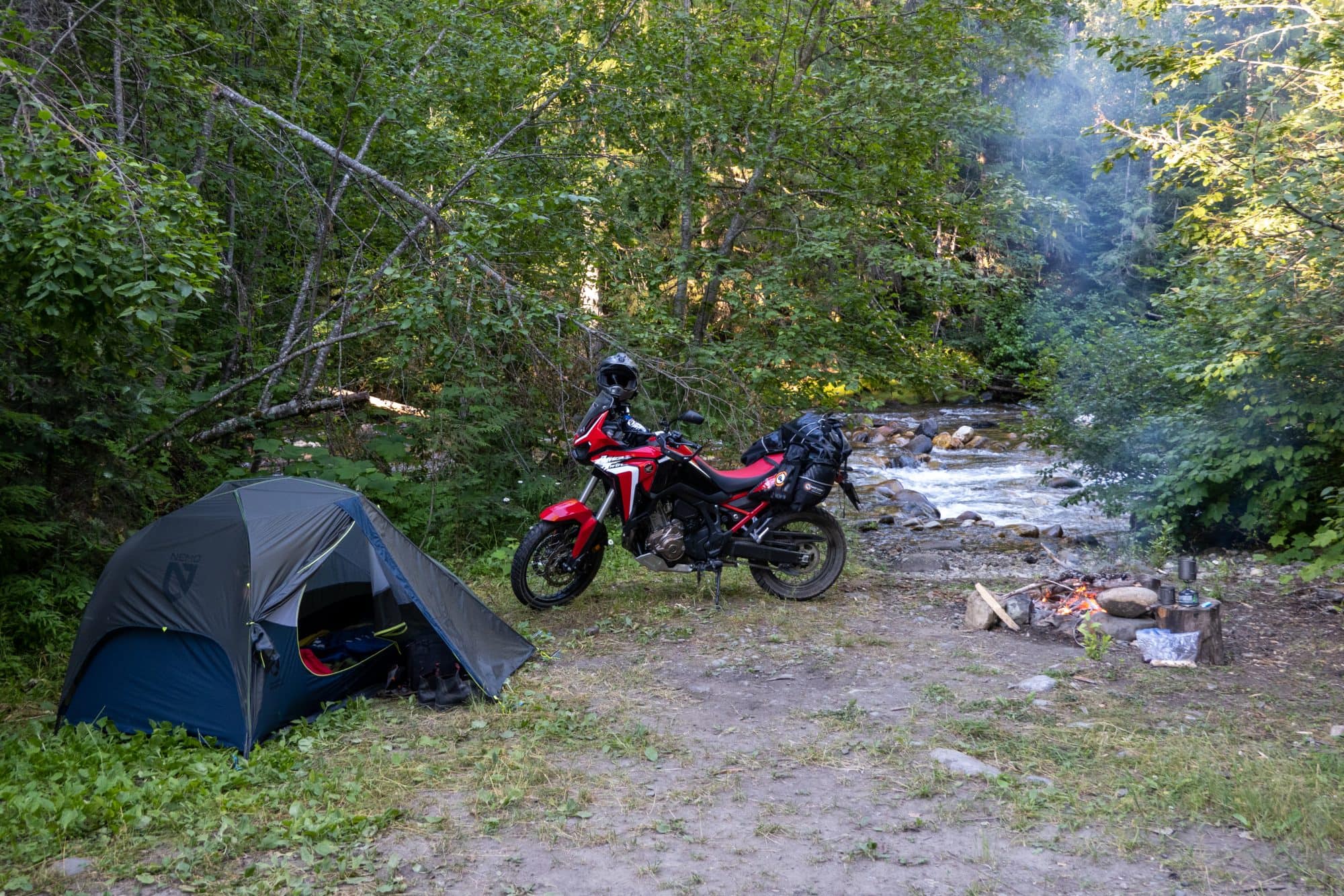 General Ridability
In my quest to travel quickly and comfortably from Victoria to Calgary, the Africa Twin DCT from Fox Moto Rent proved to be the perfect companion. With a tight timeline and a lot of luggage, I needed a bike that could handle the task, and the Africa Twin delivered. It offered creature comforts that allowed me to document my motorcycle adventure in an entirely new way. And when I craved an adrenaline spike and the desire to explore new roads, it was up for the challenge. Sure, it may not possess the same level of attitude as my 500 EXC, but sometimes you don't always want attitude, sometimes you want to indulge in comfort.
Conclusion
The Africa Twin DCT and I embarked on an adventure that was just as exhilarating and memorable as my previous escapades on various bikes. From the lush ocean side of Vancouver Island to the rugged terrain of the Kootenays, over the Rockies, and through the vast prairies, we experienced it all. We went bush camping, met up with friends along the way, and tackled twisty roads, flat stretches, dusty logging roads, and even rode up a pile of boulders (Frank Slide). The Africa Twin was more than enough bike to quench my thirst for endless adventure and a few hooligan antics.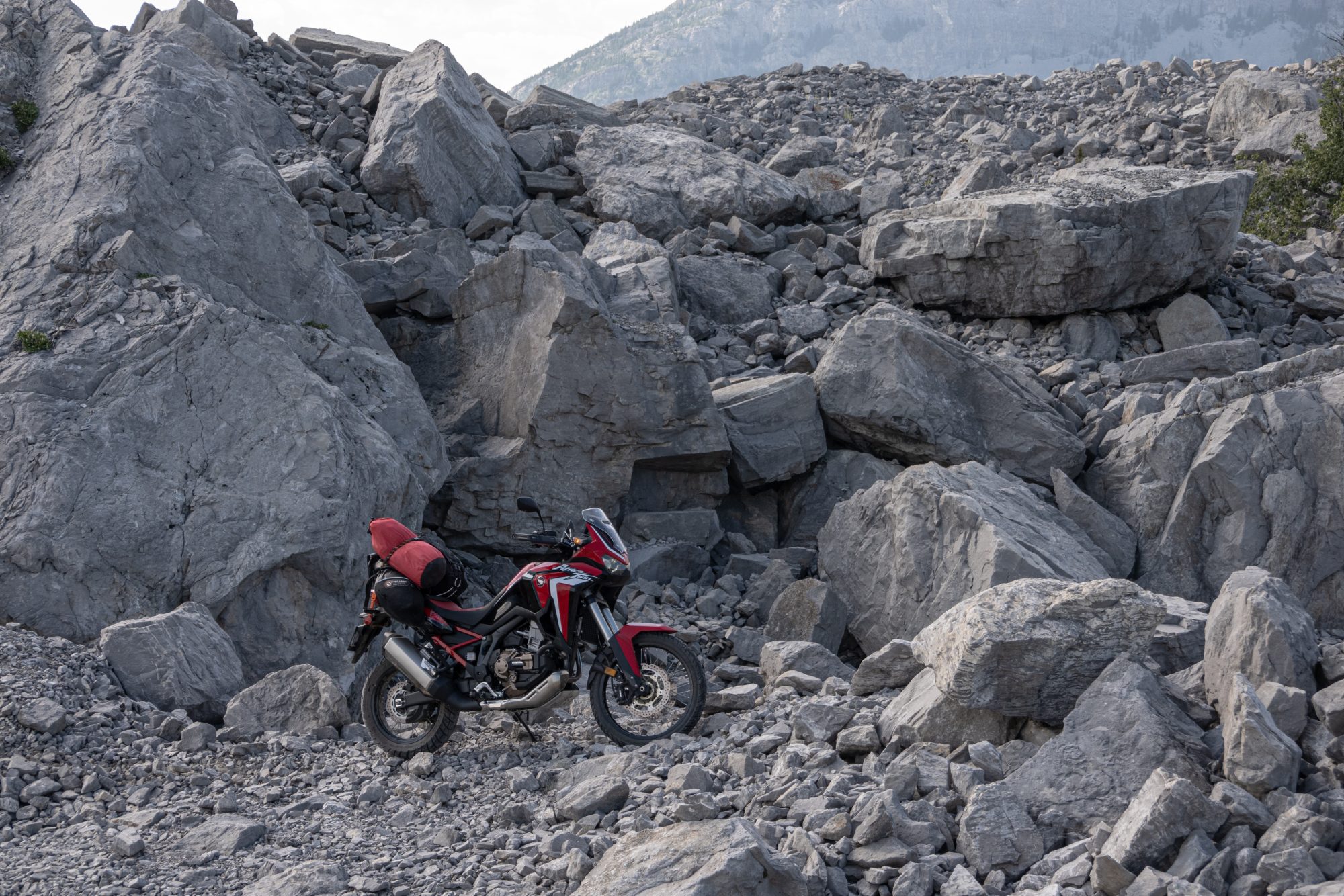 Photo Gallery