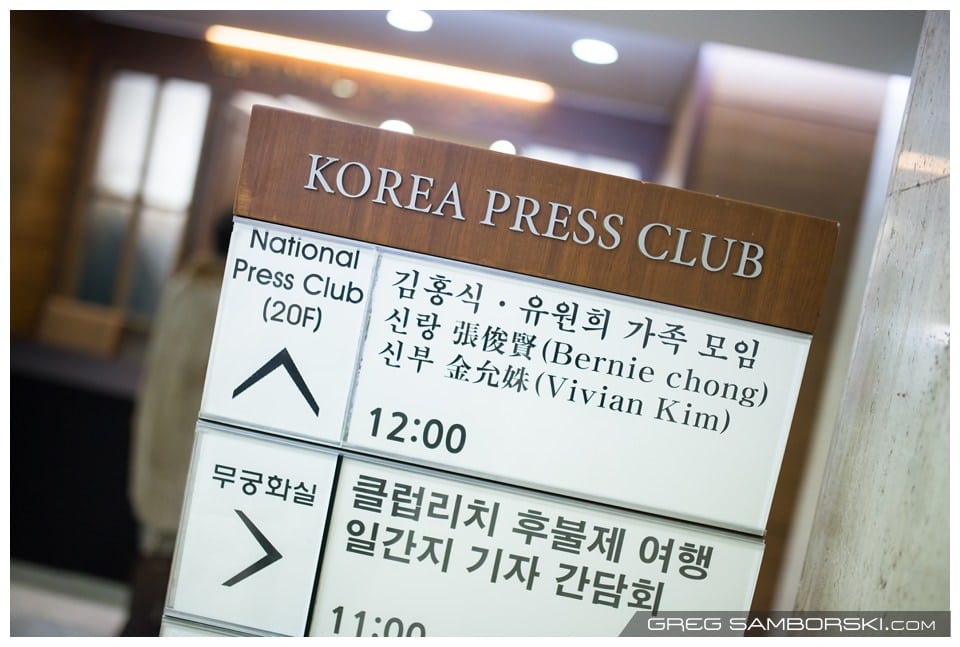 Seoul Press Center, Seoul Korea: If anyone actually reads the stuff I write here on a semi regular bases then they'll know that I'm not a big fan of photographing Korean-style weddings.  Basically it comes down to the fact that the majority of the weddings I've gone to here took place in wedding halls which I found to be  kitschy, unoriginal and absolute nightmares when it came to lighting.  So when Vivian contacted me about a pre-wedding luncheon at the Seoul Press Center my body tensed up a little.  But as Vivian explained that this was just a lunch, not a wedding, and that what her a and Bernie were looking for was more of a documentative type of photography than the standard series of group shots I loosened up a little.  When she shared photos from inside the Seoul Press Center with me and I saw the huge floor to ceiling windows looking out onto Gwnaghamun I started getting excited.  When I got there I was impressed.  The lighting, a photographer's first concern, was great, the staff  friendly and the venue formal yet comfortable.
Vivian and Bernie wanted to have at least some kind of celebration in Korea for their relatives residing here before their wedding in Singapore.  It was a good vibe in the room as a few key friends and relatives went to the podium and shared some words and stories with the crowd and couple.  There were a few guests that I felt had particularly strong looking characters which you'll see in the images below.
I love cooking, I love eating and I love taking photos of food so at every event I make sure to document what was on the menu. I'm so busy during shoots that I prefer to retreat with my meal into hiding.  I do this for two reasons; the first being so I can photograph the food under better lighting and the second is so that I don't stress people at my assigned table out with my speed eating and frequent coming and going.  The food at the Seoul Press Center was delicious. My steak was so tender I could cut it with my fork!
Vivian and Bernie I wish you two all the best and a fabulous wedding in Singapore.  Let me know when you make it back to Korea again!
Sincerely,
Greg S