Are we slaves to social media? I don't mean the way it is usually depicted in those dark depressing images that circulate around facebook every few months of people literally shackled by a little "f" icon or fiending for "likes" as though they are crack-cocaine. Those images typically focus on society's need for interaction, affirmation and the vast amounts of time facebook and other social media platforms steals from us. I'm looking at it from the perspective of building someone else's empire for FREE. Sure, we haven't been coerced to create facebook accounts so "slave" may too strong and too loaded a word, rather my point is that we are creating a lot of wealth for someone else and basically our compensation is a blue thumbs up icon and a platform that further enables us to share more content, ideas, comments, preferences, events and personal data which in turn produces more money for the people who can harness, analyze and sell it.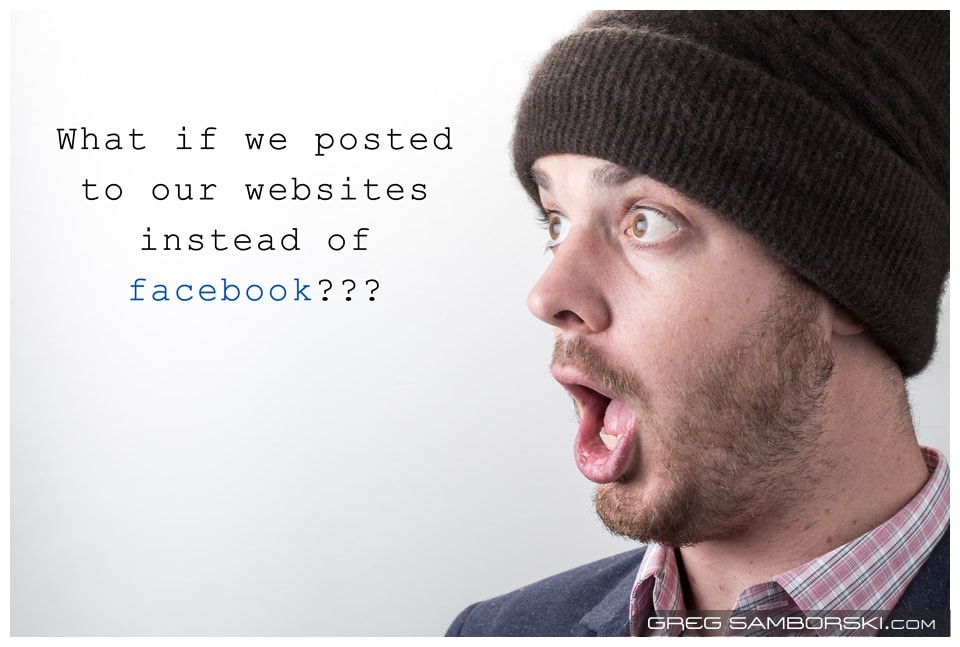 On my walk to work today I wondered yet again what if each time I was about to post on facebook I posted to my personal website instead? Rather than create content that will be buried for eternity within minutes, maybe a few days at best, I could grow my website with content that could reach a much larger audience and be easily accessible for years, maybe even decades. New clients and existing "followers" could gleam a little more well rounded view of Greg the person rather than just GregSamborski.com the business. There are a number of other immediate benefits that came to mind:
content can be searched and accessed by the entire online community vs just your social network friends/fans
content is more diversified and may lead to clients you never considered targeting and who in turn never may never have considered booking a photographer… that is until they decided to check out your portfolio 😉
content increases which can never hurt because as they say in SEO, "content is king"
I may learn to write again
Already I'm seeing the pitfalls of this endeavor, this post has taken WAY more time and effort than anticipated, but wait a second… is this actually a negative? Let's investigate.
Why is this post taking longer?
Because I'm trying to flesh out an idea in what I hope is an interesting and intelligent way and I don't feel limited by the small text box facebook provides or the knowledge that this post is essentially disposable with its half day shelf life.
And why is this post more challenging?
Because it's taking longer (for the reasons mentioned above) and I can't do a half-assed job with the knowledge that I can just append and edit my thoughts in the comments section for the next 10 minutes until the post sinks below my front page deep into my facebook history. Instead I have to make an effort to explain m thoughts clearly and concisely (the latter is always the most difficult). Furthermore, I need come up with things like titles, keywords, categories and descriptions so that this idea is easily recognizable and retrievable.
Hmmmm, so if posts like this take more time and are more challenging than I suppose I'm only going to post things that are truly worth the effort… I-I-I-I-I-I-nteresting.
Alas, today begins the 30 day facebook to blog trial. Anything I think of putting on facebook will be posted here. I have a feeling this will result in a significant decrease in posts. At the end of the month I'll look at my webpage analytics to see if there were noticeable trends.