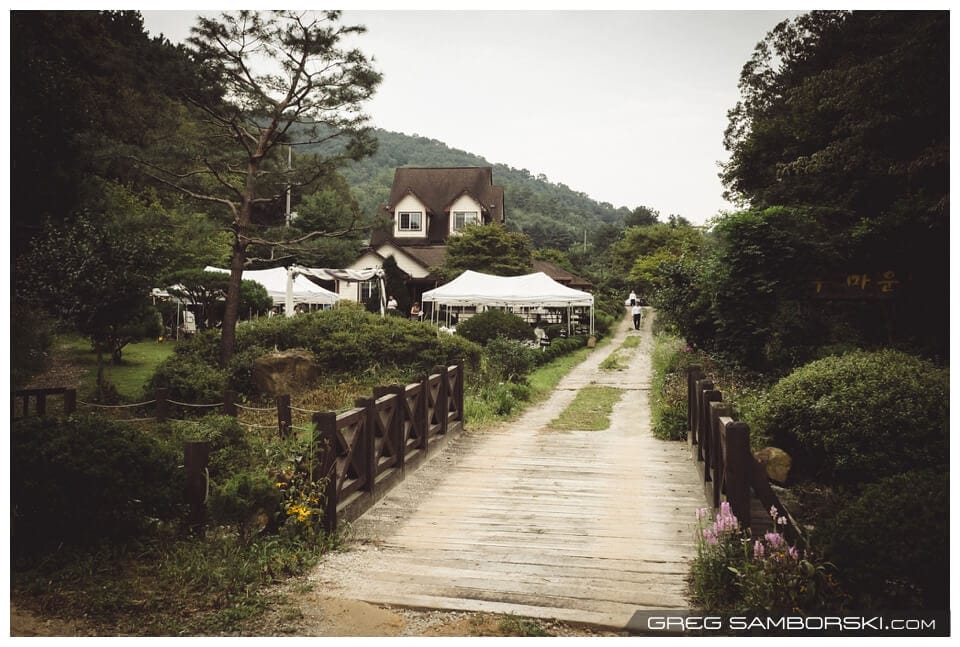 Blue Pension, Yangpyeong Korea: "What now?", these are the two words Carolina said she and Mathieu whispered most throughout their ceremony. There were however no questions about what would happen after – but lets start back at the beginning: "Outdoor wedding photographer needed. Msg Me!"
I wouldn't have even seen Carolina Lee's status update had Tessa Jeon, one of my go to makeup artists, not tagged me. Carolina and I were facebook friends, the kind who've only met in passing but shared too many mutual friends in the expat photography, makeup, film and music industry not to add one another. I had always wanted to work with what many of my photography colleagues touted as "the best makeup artist in Korea." Carolina had a reputation for her creativity, professionalism and zesty personality.
When I put my name into the running, I figured Carolina was merely searching an outdoor wedding photographer for a friend or client. I mean, "Outdoor wedding photographer needed. Msg me!" isn't exactly your typical facebook wedding announcement (especially when your facebook profile is devoid of anything that even suggests being in a relationship) but as I quickly learned, Carolina isn't your typical bride.
For starters, most brides don't typically wait until 9 days before their wedding to book a photographer. Honestly, I was skeptical of how the event might pan out if the venue, catering and decor were also being organized so spur of the moment. Then again, I showed up in Mongloia for a 5 day motorcycle trip without so much as a map, let alone a plan, so I put those worries aside and tried to get as much information as possible. This was Carolina after all, a reportedly fun, sassy and outgoing bride with a bunch of mutual friends and colleagues whom I knew were all great people. And it is the people, after all, that are the most important part of any event. The venue was Pension Blue, a bed and breakfast style accommodation just north east of Seoul in the mountains. If anyone even breaths "outdoor wedding" in Korea, I'm like a moth to a flame, as it's all too rare an event here. Thus far, I was excited about the people and the venue. Our facebook messaging continued:
Greg Samborski ~ 8/26, 1:55pm
Is there some kind of theme?
Carolina I. Lee ~ 8/26, 1:56pm
Let's get wasted? Hehe… the goal is to get everyone drunk.
Jk
Sold! That mission resonated with me. How could you not want to capture a bride this candid? We setup a face to face meeting.
Carolina brought her best fiend Tatianna along to our meeting. This was the first time I really ever sat down and talked with Carolina. Within the first 5 minutes of hanging out I was so glad to have booked her. Even though Carolina had basically no plan whatsoever, she had such a great energy about her. I knew whatever happened it would all be good.
As I returned home after our meeting I envisioned the wedding, a bunch of people hanging out in yard, no decor, no lights, no plan, just a bunch of open bottles and maybe some takeout chicken or kimbab. I thought, "cool… this will just be really raw… a nice juxtaposition!" So when I showed up at the venue and saw the beautiful work all the florists and caterers did creating a cozy, romantic and elegant vibe I was blown away. Planning HAD apparently happened.
Rain was forecast but it never came to fruition. I feel the overcast day added a unique light and vibe to the event. I could go on and on here about every detail of this wedding but I best let the pictures do the talking. I'll just say that I've never laughed out loud during an editing session so much as I did with this batch of photos.
Carolina and Mathieu, thank you both for inviting me to be a part of your wedding day. I will never forget the energy you created, your fabulous family and friends and the sheer volume of hugs, laughter and crying I experienced that day. Wishing you two all the best and I can't wait until we hangout again.