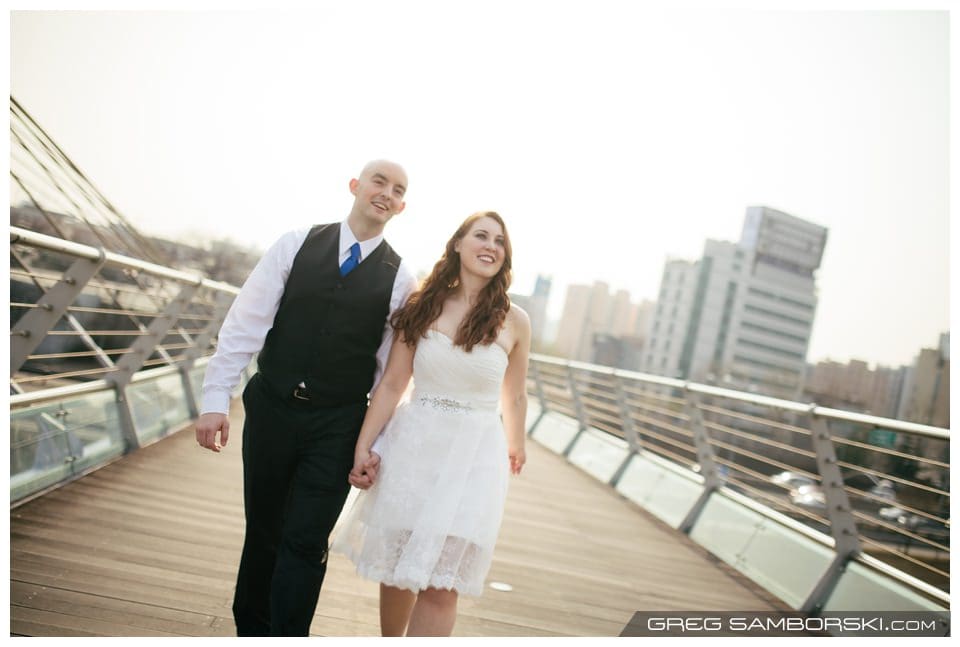 Yeouido, South Korea: I love temples as much as anyone but I wanted to try something different with Robin and Luke for their post-elopement photos. I suggested Yeouido. The small island in the middle of Seoul offers a variety of backdrops including natural looking grasslands, modern architecture and even a traditional pagoda or two. Yeouido is also home to the iconic 63, which would be a good backup location in case of bad weather or just to warm up.
I proposed the idea to Robin and she answered, "I like the combination of temples, parks and urban areas you suggested, we are pretty much  "go with the flow" personalities and really like the backgrounds in your other photo shoots.  Oh, except for the skeleton photo in the Rainy Day engagement photos – Rachel & Daniel – we definitely are not skeleton theme people.  Like I said, we will probably defer to your judgement for the details of the photo shoot."
Having just done a travel assignment on Yeouido weeks earlier I was excited by the chance to revisit my favorite places and use the great lines and tall grasses Yeouido has to offer. I always have a personal goal on my shoots and these days I'm pushing myself to include more context in my photos. I captured some of my widest shots yet. My wife hates them but hey, we don't always have to agree 🙂
As for Robin and Luke, here's a little back story: "Luke and I met through friends at a local town concert.  I went with a friend who mentioned that her husband's co-worker would be there, but assured me that "this isn't a setup".  Her words exactly.  Long story short, a couple of group outings later, we realized we had a lot of common interests (concerts, hockey games, exploring new places, restaurants, movies, being goofy, etc.)  and have been together ever since.
I booked Robin in for makeup and hair in Itaewon and then the three of us took the subway to Yeouido. Robin and Luke are a great couple, fun, flexible and adventurous. They traversed a lot of grassland for me in their Sunday best so I could get the long shots. Much of my direction was given in mime due to the large distances separating us and they understood all my flailing surprisingly well!
Robin and Luke, while I couldn't photograph your elopement I hope these images fill the missing photograph void and make you and your family happy every time you look at them.