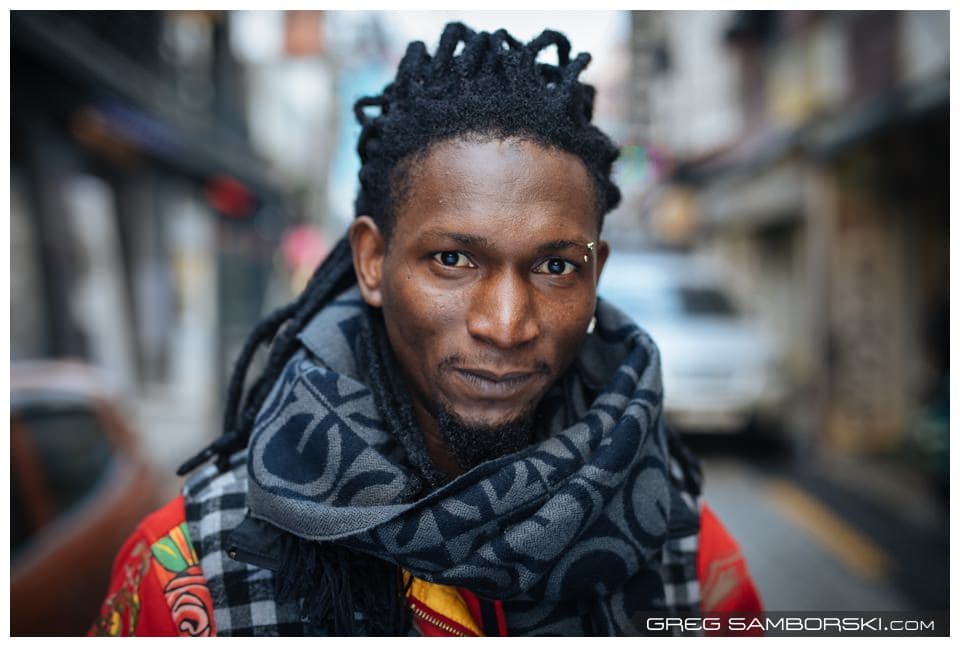 As
Steve
and I got to the last quarter of our Mc Donald's drip coffee, planning out how we were going to approach total strangers for portraits, Opokaigama strolls over to our table and says "can you take my picture?" I gave Steve that "is this for real?" glance over a momentary silence and  then got to work with our first model of the day. Pretty damn good start to 2017; ask and you will receive!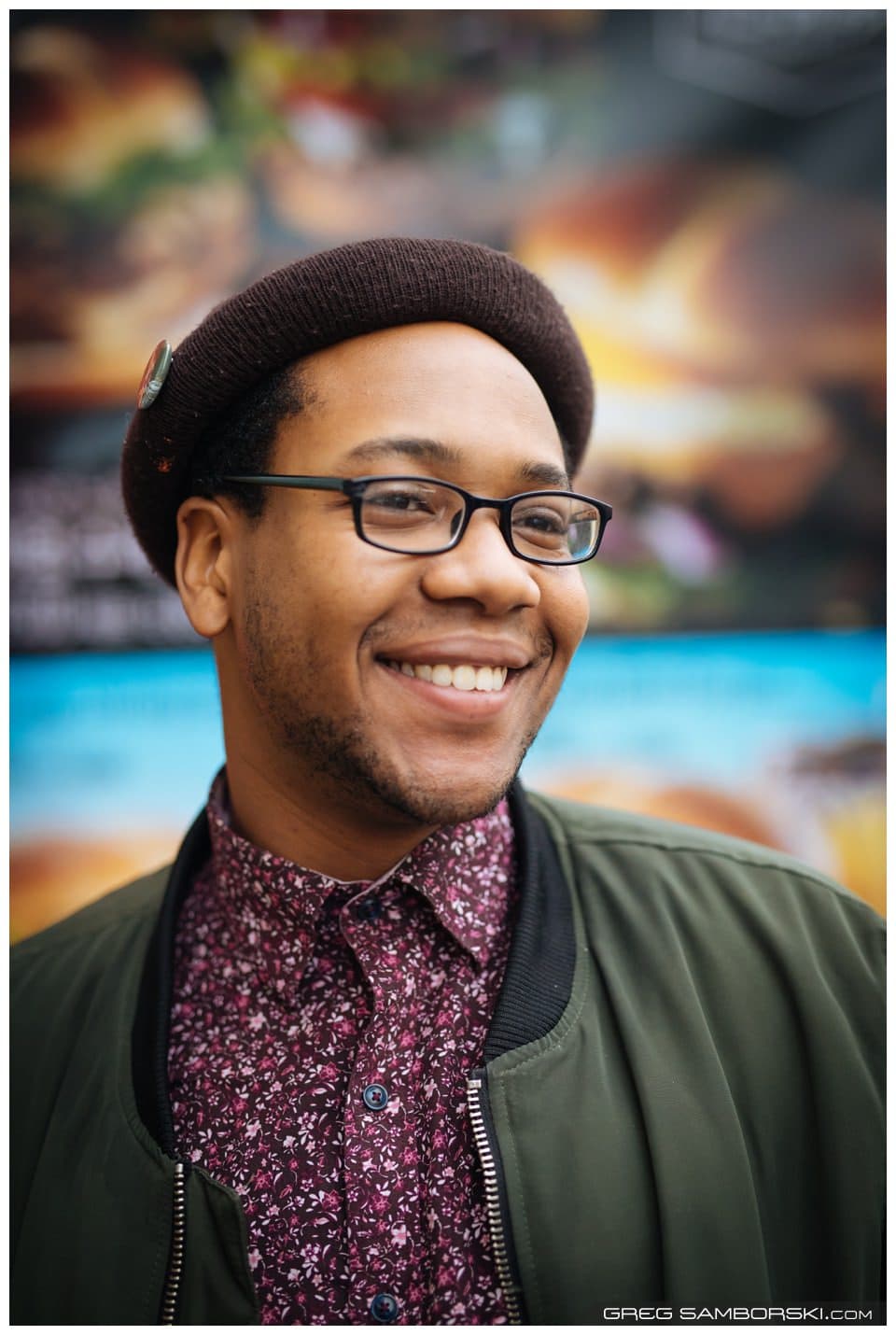 I set out with a few goals on this photo project:
1. To make deeper connections with my subjects which I hoped would put them at ease and elicit more genuine expressions
To do this I focused on building a rapport. It began with approaching the person of interest in an open, non confrontational way. Being January 1st, I started with "Happy New Year!" and made clear as quickly as possible that I wasn't there to push my religion or ask for donations but rather a photographer working on a personal portrait project. As I explained, I shared a few of my best images on the back of my camera* to confirm my story, give the subject a better idea of what I was doing, and ultimately sell them on the idea. I assured them it was totally free and that I would in fact send them their images – which I did before posting this.
(*Techie side note, after shooting with someone I reviewed the photos and assigned a one star rating to my favourite. I then assigned a one star filter to the top wheel of my Canon 5D Mark IV. This allowed me to essentially create and then share a mini portfolio to the next person. I absolutely fell in love with this feature and believe it helped immensely in establishing credibility.)
After a model agreed to a portraits I would choose a place to work, for the most part the middle of the street, and explain as began shooting that I'm asking the same questions to each person on this day, "What is your proudest/happiest accomplishment of 2016?"
I encouraged my volunteer to take a moment to think deeply about this question. This created the expression I was looking for, thoughtfulness, reflection, a few seconds where they forgot about the camera. When they shared their answer I could catch interesting expressions and quite frequently a big genuine smile as they reminisced on something positive.
The answer to the above question and some of the deeper conversations it led to will be shared under each photo.
2. To focus on and share positivity
I wanted to avoid asking something typical like "What are your new years resolutions?" as people have a tendency to list negative habits they hope to break. This day was about reflection and positivity. For many people in the Itaweon district English is their second, third or fourth language so sometimes the question wasn't understood but we proceeded regardless.
3. To get familiar with my new Sigma 50mm 1.4 Art
I've owed and broken both the Cannon 50mm 1.8 and 50mm 1.4. I never felt a lot of love for either lens and abandoned the 50mm focal range altogether perfectly happy with a Sigma 35mm 1.4 Art and Canon 70-200 2.8 Mark II slung at my sides. This combo however was less than ideal for the increasing amount of food photography jobs I've been getting. With food, a 70mm lens demands a huge working distance and 35mm is just too wide. Up to this point my Canon 40mm 2.8 pancake has been my go to yet I feel it too is a bit wide.
On the portraiture side, for things like artist and corporate headshots, I was finding the 70-200mm a little too intimidating for my subjects and the 85mm 1.8 slightly bland due to the very fact it is considered a "perfect" portrait lens. The compression at 85mm is almost too much at times and both lenses require you to stand so far back it's hard to create the personal connection. My goal was to keep the working distance intimate, add a touch more dimension to my portraiture and retain the ability to really throw the background out of focus or work in low light if desired.
Enter the Sigma 50mm 1.4 Art. It's a beast of a lens and isn't exactly cheap at around 1,000 USD (I got mine for $625!!!) but based on my four year relationship with the 35mm 1.4 Art I knew I couldn't go wrong. I love my 35 Art so much that it goes with me EVERYWHERE, even when I have a freak'n Canon 16-35 2.8 L in my bag I still bring it along much to my backs chagrin because there is simply no other lens in my bag that can produce that 35 1.8 Sigma look I adore so much.
The Sigma 50mm 1.4 Art didn't disappoint. I shot it mostly at f2. Standing so close to my subjects, I wanted to ensure a little more was in focus than just their eye. We've only know each other one day but I'm already falling for the 50mm ART.
4. To create a visually and conceptually consistent body of work that had some unique element to it
I get bored easily. Shooting the same subject, camera, lens, composition, lighting, etc is soooooo not my style but this time I committed to keeping things simple and constant so I could focus on interactions and create a cohesive BODY of work.
The little bit of uniqueness I added was the use of a huge California SunBounce reflector. This gave the images that pop, that tinge of surrealness I love in a photo. Another benefit of the reflector was that it added yet another layer of credibility. Many people still believe their is a positive correlation between photographic ability and the size ones camera or the amount of gear they have. The SunBounce looked "pro" and for that price it BETTER BE 🙂  Despite it's huge size it's incredibly easy to transport and handle.
So how did it all go? In one word, AWESOME! I think all but two people agreed to portraits and I was truly struck by the warmth and openness of everyone we met. This personal project reminded me  that we all ultimately want the same things: to connect, share, be heard and better ourselves.
I'm looking forward to what 2017 has in store. I will be doing more of this kind of thing as it gives me as big of an adrenaline rush as dirt biking or traveling. A huge thanks to everyone who took a few moments out of their day to help me with this project. If you liked this, please share it anyway you can.
Peace,
Greg S